A Shot In The Dark by L.J. Stock
Title: A Shot In The Dark
Author: L.J. Stock
Genre: Contemporary Romance/Romantic Suspense
Release Date: March 12, 2018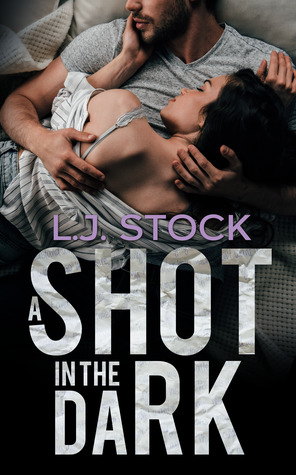 Life had never been simple for Miki Quinten. Her mom had died when she was eight, and in the aftermath of their loss, her father turned his grief into alcoholism, inadvertently converting their home into a melting pot of debauchery. Unwilling to be put into the foster system, Miki takes control of her own life and becomes invisible to almost everyone but her best friend and godmother. 

It stayed that way until her junior year in high school and the sudden, unexpected crash landing of Childress High's star defensive end, Dustin Hill, into her life. The unlikely pair are thrown together and discover they have more in common than either of them thought, and before either Miki or Dustin are prepared an unbreakable bond is formed between them. The only problem is, Dustin's already in a relationship, and his controlling family have made it clear they want him to stay there.

Against Miki's better judgment the two grow closer until fate's twisted sense of humor intervenes and everything in Miki's world is scattered, plunging her into a crisis she's not sure she will ever recover from.
A Shot In The Dark by L.J. Stock

Rosa's rating: 5 of 5 iScream Cones


"Despite the scars that were now etched into my heart and soul, time continued to pass."


It was back in 2015 that I read a story that L.J. Stock co-wrote. I enjoyed it so much that when this title crossed my path, I remembered her name. After reading the synopsis I was intrigued, I blame my addiction to broken characters for some of the choices I make and for many of the tears I've cried. And I blame L.J. Stock for the heart-shaped lump in my throat as I try to make sense of my scattered thoughts and write this review.

This amazing story is told from Mikayla's POV. It begins with her being a junior in high school. She might be only 16 yrs old, but she's lived a hard life and is very mature. She's basically taking care of herself, and has been for years, with only a little help from her best friend and godmother. Her father provides shelter and not much else other than the stuff that no young girl should be exposed to. She knows that if she brings it to anyone's attention she would end up in foster care and risk losing the only the people that do love and care about her. So she just keeps to herself, hiding in plain sight.

When Dustin comes into her life she learns that solitude is overrated. There's something to what they say about sharing your thoughts and dreams with someone who listens and supports you. With him she was not invisible...he sees her. But unfortunately, the whole town sees him. He is the star athlete that everyone wants a piece of. His life is not his own and he is being pulled in so many directions he doesn't know if he is coming or going. When he almost ran into Mikayla, literally, he was shocked to learn that she'd been at school with him for a long time and he'd never noticed her before. And now that he has, he can't stop noticing her. She's off-limits, forbidden, and irresistible.

They find ways to spend time together, stolen fragments of time that only make them want more. "He was heat and comfort, love and passion. He was the other half of the whole that made us...us.


The author pulled me into their tragic love story. I held my breath and watched them fall slowly and beautifully in love in spite of all the reasons they shouldn't. I watched Miki come out of her shell and blossom under his care and attention. I saw the pressures his family put him under weigh him down and discourage him, and then I saw the peace he found just being in Miki's presence. They were drawn to each other like bees to flowers, and metal to magnets.

After reading the synopsis, I knew something bad was coming. I just didn't know what. I was afraid to turn each page fearing that whatever it was would be there. I fell so hard for this couple who had overcome so much and fought so hard to be together. I was mentally envisioning their future wedding, kids, and pets. There were a few other characters that I wanted to use for target practice. I was guessing what could possibly be considered a crisis that she might not ever recover from, afraid to even let my mind go there, but unable to stop it from doing so.

Well, let's just say that I survived, but just barely. I went through a box of kleenex and I gnawed my nails to nubs. My heart was put through an emotional wringer and I wasn't sure if I would recover. But one thing I am sure of, A Shot In The Dark is not a story I will be forgetting anytime soon. I'll be on the lookout for whatever the author has for us next. The line forms here...
From a young age L.J. Stock was led by her imagination. From the moment she could read she fell into worlds where trees could talk and little girls could move things with their minds. 

In no hurry to grow up, she found stories all around her, in the forests of Plym Bridge, the moss covered hills of Dartmoor, then, as she grew older, the wide spread city of Houston, where she currently resides and works. A constant daydreamer, she hopes that one day, her passion can become something more than just a hobby for her. 

Still led by her imagination, the worlds have slowly grown from childish adventures to urban fantasies and romances. With inspirational authors such as Enid Blyton, Roald Dahl, Judy Blume, John Grisham and Stephen King guiding her through her life so far, L.J. Stock has finally decided that it is time for her to go for gold and try land herself on someone else's future list of favorites. 

Putting words on paper is as essential as breathing to her, but on the rare occasions that she isn't writing, she can be found with a video game remote in hand or curled up on the couch with her pup and a good book. Music is also such an important part of her life, it's a wonder there isn't a background soundtrack playing wherever she goes. 

A good girl to most, a bad girl to a few, L.J. believes that every genre should be attempted and is more than likely to have tried to release three hundred series' ranging from vampires and werewolves, to dystopian and even classic romance, before she reaches even middle age. At least, that's the plan for now.