About Time (The Avenue, #1) by B. Cranford
Title: About Time
Series: The Avenue, #1
Author: B. Cranford
Genre: Contemporary Romance
Release Date: April 25, 2018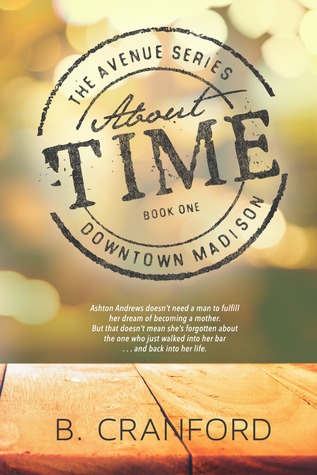 It's all about timing . . . 

Ten years. That's how long Ashton Andrews spent wondering if she would ever have the family she craved, with a man who was apparently not the one. 

Six weeks. Time spent patiently waiting, silently hoping and endlessly wondering if the decision she'd made to go it alone was the right one.

Nine months. Morning sickness, cravings and that constant need to pee are what Ashton has to look forward to, knowing that numbered are her days of being just one. 

Fifteen years, eight days. An eternity ago were those unforgettable moments spent crushing on her brother's best friend, yet her mind constantly turns to him—the one who got away. 

The one who might yet be her one. 

It's probably about time she found out . . . 

About Time is a contemporary romance featuring 30-something characters who know that life is short and know what they want.
About Time (The Avenue, #1) by B. Cranford

Chantal rating: 5 of 5 iScreamCones

Beth has broke into this industry and there is no stopping her! This book was amazing! It was a cute and light story. I loved the banter between all the characters. It's told in a unique dual POV.

Ashton is a woman who has her fair share of interesting men in her life. She decided to take the bull by the horns and have a baby on her own. She is determined to make it! Her ability to love is immense and her loyalty to her brothers is so strong. She owns a bar with her little brother and is always on the go.

Duncan (Andrew) is the best friend of Ashton's older brother Aaron. He had been living his life in the city and also taking care of his ailing sister. He went day after day doing what needed to get by. He wanted something else.

Ashton and Duncan met when he was helping Aaron out. As life went on for them, they drifted apart. Time was always a factor for a chance at anything. They both had and still do have strong feelings for one another.

Will Ashton and Duncan finally get what they want? Does Duncan give Ashton her happily ever after? Can Ashton be the mom she wants to be and also still fall in love?

This book is a high recommend for a good summer read. I loved this book. I can't wait for the next book to come out. I'm curious who it will be about.


B. Cranford is a proud Australian living in the USA, a lover of books, breadsticks and bed, and the mother of two children who are far too similar to their father for her liking. A lifelong reader, she dove into the romance genre on the recommendation of her best friend and hasn't looked back since. Her debut novel, The Brightest Star, a second chance romance with (she hopes) heart and humor was released on July 13, 2017, which just so happened to be her birthday. Because if you release a book on your birthday, you get twice as much cake, and that can only be a good thing
Win a $25.00 Amazon Gift Card!
Hits: 3