✦ #ReleaseBlitz ✦ #Review ✦ #BadassBikerAlert ✦
KENNEDY
I was paying off a debt.
One that wasn't mine.
But when your father screws over an outlaw motorcycle club and then disappears with their money, you have two choices.
Pay with your body, or pay with your blood.
With a little sister to protect, I did what I had to.
I gave them me.
REPO
I was born a protector.
Whatever it took, I did it.
My family, my brothers and the club's name—I made sure that anyone who crossed us, or at least anyone who tried, learned quickly why they shouldn't.
Seeing her sitting at the bar, I was drawn to her. Her scars, her bruises, and the light around her.
Without knowing me, she instantly had my back.
So it was only fair I had hers.
She walked in with the enemy.
But there was no way in hell I was letting her walk out with them.
✦ #ReleaseBlitz ✦ #Review ✦ #BadassBikerAlert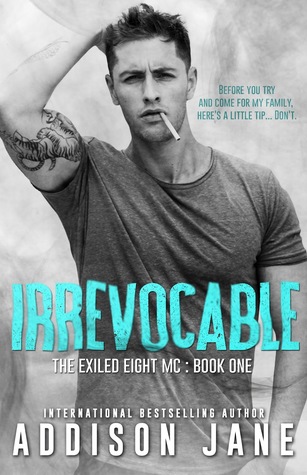 Our pasts were a part of us.
Definitively.
Irrevocably.
Mine hijacked my dreams every night, drowning me in guilt and staining my hands red.
It wasn't just a part of me, it stole a piece of me—the piece that stopped me from letting people get too close.
And I'd become pretty damn good at playing the untouchable asshole card just to keep them away.
But apparently, Dakota Samuels didn't get that memo.
From the moment she accidentally walked in on me naked, she began to demolish any and every wall I'd ever built.
She was sexy and tenacious.
And I was addicted to the way she looked at me.
To the way she fought for me.
To the way her body felt beneath mine.
We were both done with running from the demons of our pasts.
They were going to find us.
They were going to try and destroy us.
And they may have won before, but like hell I was going to let them take her from me too.
Because if they tried, this time the blood I saw in my dreams would be theirs.
✦ #ReleaseBlitz ✦ #Review ✦ #BadassBikerAlert ✦
Meyah wasn't the same girl she used to be.

She was becoming a woman. One who wasn't afraid to speak up and stand her ground, refusing to go back to that girl who let the world walk all over her and break her down.

Her love for Hamlet gave her strength.

Meyah knew their relationship was never going to be easy.

When misunderstandings and bad decisions threw them off course, they would need to fight even harder to repair the cracks which had appeared. And even then, it was never going to be perfect.

But Meyah didn't want perfect.

She wanted Ham.

He encouraged her to be herself, to fight for what she wanted. So when Meyah stumbled across the piece of herself which had always been missing, she couldn't help but want to know more about this man she could finally call Dad.

Huntsman was dangerous, he was deadly, and there were people out there who would do anything to bring him to his knees. And Meyah was about to find herself right in their firing line.

Lines would be drawn.

Loyalties would be questioned.

And love was about to be tested like never before.
✦ #NewRelease ✦ #Review ✦ #BadassBikerAlert ✦
Ham lost his family in one swoop of the devil's hand.
His parents were killed, and his brother and sister were torn away from him by a broken system. As the eldest sibling, he was meant to protect them and keep what was left of their family together.
But he failed.
When he found the Brothers by Blood MC, he was given a second chance at a family. He was given time to redeem himself and be the brother he couldn't be before.
It was there he found Meyah—everything he wanted but didn't deserve.
Meyah was off limits, but the fire between them only grew more intense as he watched her grow and fight to find her voice. She wasn't the young and innocent girl he'd felt he had to protect, she was stronger than ever.
Tired of denying the pull between them, he was determined to fix the mistakes he'd made in the past so he could finally feel like a man worthy of someone so damn beautiful, smart and real.
First, he had to go back to where it all began.
And what he finds there may not give him peace.
Instead, it's about to create a whole new storm.
✦ #ReleaseBlitz ✦ #Review ✦ #BadassBikerAlert ✦
Skylar thought she'd outrun her past six years ago.
Growing up, her life was dictated for her and reinforced with a heavy fist. The people who were meant to love and protect her were those that caused her the most pain. So she risked everything and ran.
It was the Brothers by Blood MC that gave Skylar the chance to explore her own mind and body, and work toward a future that she had control over.
She swore she'd never fall for a brother, not willing to lose the life she'd built. When she's paired with Eagle during a club run, Skylar's determined to pull a smile from the dark and moody brother.
What started out as a playful game, soon ignited into something much deeper than she'd anticipated.
Was she ready to risk everything all over again if he didn't feel the same?
Eagle didn't like to stay still for long.
After many years in the army, his luck finally ran out, and he had to watch helplessly while his team was killed. People he'd laughed with, and shared his life with, suddenly gone.
There were moments when the memories became too much, and he was trapped in his own personal hell, but it had become a part of who he was, something he felt was his burden to bear.
He never expected to break down in front of Skylar, to have her see him at his worst.
She didn't try to fix him. She threw sass, she was sarcastic, and she made those moments when he could breathe again worth fighting through hell for.
But how did you claim a woman who refused to belong to anyone but herself?
Neither of them knew how to tell the other how they felt, but when the past returns with a vengeance, they might just run out of time to find out.
✦ #ReleaseBlitz ✦ #Review ✦
Angelo Moretti was a man I should have stayed far away from.
When my world was torn apart before my eyes, and I was left vulnerable and damaged, he was sent to protect me.
He was hard.
He was patronizing.
And he was the most beautiful man I'd ever met.
Every bone in my body told me to hate him, to despise everything he stood for.
But I couldn't.
Angelo lit a fire inside me I'd spent my entire life smothering with obedience and fear. He pushed me further than I'd ever been before, and when I was right on the edge, he dared me to jump.
He offered me redemption and the chance to hurt those who'd wronged me. In order to get that though, I had to take a leap into his world, the deadly mafia empire the DePalma family had created, one filled with drugs, guns, and blood.
I found him in the darkness, but it was there that I may just lose myself.