Bishop (Arizona Vengeance, #1) by Sawyer Bennett

Title: Bishop
Series: Arizona Vengeance, #1
Author: Sawyer Bennett
Genre: Sports Romance
Release Date: August 14, 2018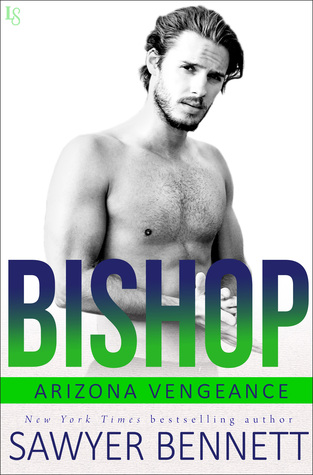 Meet the Arizona Vengeance, hockey's hottest new team. They're burning up the ice—until a one-night-stand with the coach's daughter freezes one player in his skates.

Bishop Scott, co-captain. Not too shabby, huh? It's all part of my fresh start with the NHL's latest expansion team, and that means new teammates, a new coach, a new city, and a big new contract. Basically, I cannot f***ing wait to show my old squad what they're missing.

But first, I decide to check out the town before the grind begins. Turns out Arizona chicks are totally smokin', and I'm fortunate enough to meet one who's looking for the same thing I am: a night of anonymous, unforgettable, no-strings-attached sex.

Fast forward to the Vengeance arena. It's the last place I expect to see her again—let alone in her own office. Then bells go off and I finally realize who this girl is: Brooke Perron. My new coach's daughter. All of a sudden, we're picking up right where we left off, which means our hands are all over each other. That's when her dad—my boss—walks in. And before I can get a word out, Brooke's introducing me as her fiancé.

Sure, she just saved my ass. So why do I get the feeling Brooke's going to turn my world upside down? Maybe it's because this fake relationship feels way too real. . . .
Bishop (Arizona Vengeance, #1) by Sawyer Bennett

Rosa's rating: 5 of 5 iScream Cones

"While I'm fucking stunned over how much I enjoyed these last few days with Brooke, I'm also freaked out over how much I enjoyed these last few days with Brooke."

How thrilled I was when I learned that Sawyer Bennett was writing another hockey series. I'm a huge fan of her Cold Fury series and was sad when it was over. What a fun new twist Bishop has taken, the #FakeFiancé route. Even though I knew it was coming after reading the synopsis, the anticipation of waiting for it was exciting.

Bishop earned my respect early one. He's not just a cocky arrogant professional athlete that expects to get everything he wants like so many others. He's actually feeling a little insecure after being released by his former team and nervous about his place in the new Arizona Vengeance expansion team. He's going to have to prove himself all over again. Deciding to blow off some steam at a club before his first team meeting he runs into her. She's gorgeous and smart and everything he's looking for...for one night.

Brooke is new to Arizona and even though she's the daughter of the coach, she doesn't follow hockey or know the players. So, when Bishop approaches her she has no clue he's a player for her father's team. It's just instant attraction and their bodies do all the talking. They get to know each other very closely, but without words. Maybe a few moans and screams, but no names or phone numbers were exchanged. Neither was disappointed by their memorable night together, but they never planned to see each other again.

Woo Hoo! What fun it was to be inside Bishop's head as he walked down the hall and noticed his hot one-night-stand sitting behind a desk the next morning. Let's just say he talks dirty in his thoughts too. I thoroughly enjoyed mentally watching their reconnection scene play out. Knowing that they would realize each other's previously undisclosed identity and barely have time to process it before her father walked in on them getting reacquainted (wink-wink). Without thinking, because the lust overrode her thoughts, she blurted out to her father that Bishop was her fiancé.

It just gets better from there as they scramble to keep up with their charade. That instant attraction that they felt never dissipates, it just gets stronger. What happens when convincing others that they are in a relationship becomes way too easy? Will they be ready to breakup when the time comes? How long will they be able to hide from the truth when everyone else seems to already know it?

I loved not only the hockey details but the unexpected turn the story took. The author kept me invested and excited as the couple skated on thin ice. I'm loving this new series and I can't wait for the next installment. There's a particular player that I'm yearning for, but my guess is that he'll be the last one to tell his story. I can't wait!!! The line forms here...
Since the release of her debut contemporary romance novel, Off Sides, in January 2013, Sawyer Bennett has released multiple books, many of which have appeared on the New York Times, USA Today and Wall Street Journal bestseller lists.

A reformed trial lawyer from North Carolina, Sawyer uses real life experience to create relatable, sexy stories that appeal to a wide array of readers. From new adult to erotic contemporary romance, Sawyer writes something for just about everyone.

Sawyer likes her Bloody Marys strong, her martinis dirty, and her heroes a combination of the two. When not bringing fictional romance to life, Sawyer is a chauffeur, stylist, chef, maid, and personal assistant to a very active daughter, as well as full-time servant to her adorably naughty dogs. She believes in the good of others, and that a bad day can be cured with a great work-out, cake, or even better, both.

Sawyer also writes general and women's fiction under the pen name S. Bennett and sweet romance under the name Juliette Poe.