✦ #BookBlitz ✦ #Excerpt ✦ #Giveaway (Paperback of Butterfly & Signed Swag) ✦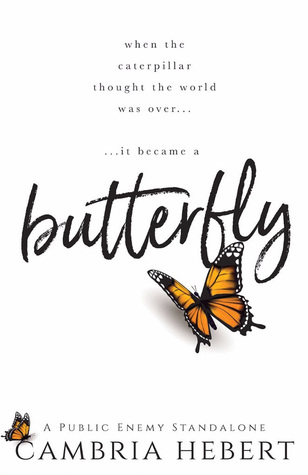 Drunken brawls. One-night stands.
No-show interviews. Toilet-papering my hoity-toity neighbor's house.
Insulting my fans. Trashing hotel rooms.
What's it take to become public enemy number one?
I just told you.
I've done all that and more.
My poor conduct got me on the Celebs Behaving Badly list
and ultimately ruined my career.
From the world's number-one popstar to world's most hated.
That's me. Ten Stark.
Go underground, they said. Stay out of the spotlight.
Most importantly, stay out of trouble.
Everyone loves a good comeback story.
For once, I listened.
I met someone who didn't know my name,
my face, or the bad behavior that defined me.
She taught me I wasn't who everyone thought I was—everyone including me.
Then someone whispered my name and things got messy, as they always do.
Now I want her back.
I'm not a caterpillar, but a butterfly.
My wings are in full color, not just black and white.
But first, I have to shed my cocoon and fly.
✦ #BookBlitz ✦ Adult Coloring Book ✦ #Giveaway (Signed copy of #HookUp) ✦
Your #HookUp for all things #Hashtag.
Missing your favorite #family?
This is your exclusive invitation back into their world.
#HookUp is an explosion of the award-winning #Hashtag series by Cambria Hebert and makes the perfect collector's item
and addition to the series.
It's a coloring book, but not just any coloring book.
#HookUp includes coloring pages that will rock your world, a #Hashtag-themed word search, recipes from your favorite characters, and…
Are you ready?
Bonus scenes!
Four bonus scenes total—two of which are brand new!
Find out what your favorite gang is up to these days.
So what are you waiting for?
Get the #HookUp!
✦ #BookBlitz ✦ #Excerpt ✦ #Giveaway ($20.00 Amazon Gift Card & Signed Paperback)
I washed ashore in a little lake town.
A place where everyone knows everyone, yet…
No one knows me.
I don't know me.
If a woman doesn't know her own name, does she really exist?
I don't know my natural hair color, my birthdate, or where I live.
I am invisible.
To everyone, to everything, even to myself.
Except to him.
I see the recognition deep in his stare, the way it lingers on my face as if I'm a puzzle he's desperate to put together.
I just want answers, the truth… knowledge.
His lips are sealed. Still, his eyes beguile me.
I can't trust anyone, not even myself. Someone wants me dead, the same someone who tried to bury me in a watery grave.
They'll come for me again… I won't know their face.
I don't even know mine.
I am amnesia.