Christmas with a Prince (Rothman Royals, #4) by Noelle Adams
Christmas with a Prince
Noelle Adams
(Rothman Royals, #4)
Publication Date: November 29, 2017
Genres: Adult, Contemporary Romance
I might be a former party girl and the over-indulged daughter of a multi-millionaire, but for the last few years I've been trying to be work hard and be good. I have enough right now to deal with–graduate school, my community literacy program, preparations for Christmas, and my dad's constant attempts to find me a husband. I definitely don't want to put up with Henry always hanging around, acting obnoxious and looking far too sexy.

My boss forced me to take on Henry as a literacy volunteer for the month of December. I don't know anything about him except he's from somewhere in Europe, and he's spoiled, entitled, arrogant, stubborn… and incredibly hot. He's the kind of guy I've been trying to stay away from. Plus he's got a secret–something he's hiding from me.

Now I can't think of anything but him, and I'm stuck with him until Christmas is over.
---
$2.99 BUY LINKS
Goodreads / Amazon / Barnes & Noble / iBooks / Kobo
---
EXCERPT
I tried—very hard—not to feel an amused satisfaction at the look on Henry's face as he saw the task in front of him.

"You think I have time to do it all?"

"Why wouldn't you? Unless you're planning to waste time while you're here." I remembered I was supposed to be nice to him now and tempered my tone with a smile. "I'm sure you're not. You'll get through them in no time."

His eyes narrowed again in that suspicious way, as if he thought I might have questionable motives. "Why are you being nice to me today?"

I stiffened my shoulders. "Why wouldn't I be nice?"

"You weren't nice yesterday."

This was unfortunately true, and I felt guilty about it. "I'm sorry about yesterday. I was… I didn't know who you were, and I overreacted."

If anything, his expression looked even more suspicious than it had before. "And you know who I am now?"

I frowned in confusion. "Of course I know who you are. Marcus told me you were authorized. You're not some creep who came in off the street to get close to the kids."

His face relaxed slightly but not all the way. "I see."

I felt even more confused, rattled in a way that wasn't normal for me. I didn't like it. I gave him a little scowl. "Why are you being weird?"

"I'm not being weird." He spoke the last word with care, as if he weren't used to saying it.

"Yes, you are being weird. You seemed to like it yesterday when I was rude to you, and now you're all stiff and off-putting because I'm trying to be nice."

"I'm not off-putting." He was relaxing even more now, that little smile on the corner of his mouth making those adorable creases.

I scowled even more. "Yes, you are. Do you have a problem with people being nice to you?"

"Only if they have ulterior motives."

I gasped. "What possible motive could I have to be nice to you, other than being a decent person? Maybe you're not used to being around decent people, but there are a few of us out there. If I want to be nice, I'll be nice. I don't have to have a motive for it."

He was back to yesterday's mood now. His eyes were laughing and appreciative both. As if I amused him and he also liked what he saw. "You're not being very nice now," he drawled.

"Well, I would if you'd let me. I find it very hard to be nice to obnoxious people."

"And you think I'm obnoxious?"

He was teasing me. I knew it, and I also knew I shouldn't play along. But I couldn't seem to help it. "Of course you're being obnoxious. I can't be the only person who's ever told you that."

"You actually are. Almost everyone likes me."

"That can't possibly be true."
ABOUT THE AUTHOR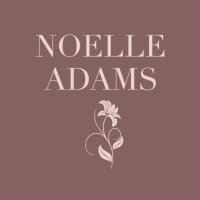 Noelle handwrote her first romance novel in a spiral-bound notebook when she was twelve, and she hasn't stopped writing since. She has lived in eight different states and currently resides in Virginia, where she reads any book she can get her hands on and offers tribute to a very spoiled cocker spaniel.

She loves travel, art, history, and ice cream. After spending far too many years of her life in graduate school, she has decided to reorient her priorities and focus on writing contemporary romances.
STALKER LINKS
Website / Goodreads / Facebook / Twitter
GIVEAWAY!
HOSTED BY