Crave: Part One (Crave Duet, #1) by E.K. Blair
Title: Crave: Part One
Series: Crave Duet #1
Genre: New Adult Contemporary Romance
Release Date: August 14, 2017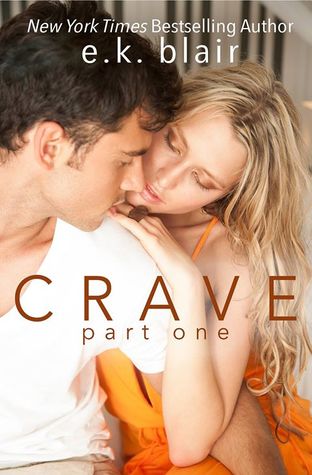 From the moment
they met, they started to fall. Neither of them predicted just how far the drop
would be, though.

Loving Adaline was
all Kason had ever wanted to do. But layer by layer, he started to unravel,
forcing Adaline to face an addiction she never could've imagined.

This is what
happens when one person loves beyond the craving and the other craves beyond
the loving.
---
 99c for this weekend only!!!
---
Crave: Part One by E.K. Blair Tricia's rating: 4.5 of 5 iScream Cones

Well, I finished this book yesterday and I needed a moment to think about my review. That ending took my breath away!!

This book is YA but with really adult situations. Very different from E.K. Blair's other genres. But I will say that I really enjoyed reading it.

Crave is about Kason and Adaline.

Y'all are going to fall in love with these two. They will take you down memory lane as you read about their stories, some really fun and some really heartfelt emotional stuff.

Adaline moved halfway across the country with her mom, moving her away from all of her friends and family and now she is the new kid in school. She is having a hard time adjusting to her new life. But that is when she runs into Kason.

"What's your name?"
"Adaline...People just call me Ady." what's your name?
"Kason...People just call me Kason"

"From the moment they met, they started to fall. Neither of them predicted just how far the drop would be, though."

You will take this journey with them through the fun and hard times of high school. You will love how Kason takes Adaline under his wing and protects her, but can he protect her from everything?

I gave this book 4.5 iScream Cones. This book will make you Crave sooo much more!!!
---
Crave: Part Two releases October 16
---
E.K. Blair, takes her readers on an emotional roller coaster with her dynamic and intense writing style. Noted for her ability to create fleshed-out characters that will evoke a realm of reactions, you can be assured that her stories will linger with you far beyond the last word.
 
A former first grade teacher with an imagination that runs wild. Daydreaming and zoning out is how she was often found in high school. Blair tends to drift towards everything dark and moody. Give her a character and she will take pleasure in breaking them down, digging into their core to find what lies underneath.
 
Aside from writing, E.K. Blair finds pleasure in music, drinking her Starbucks in peace, and spending time with her friends. She's a thinker, an artist, a wife, a mom, and everything in between.