Crowd Pleaser by Marie James

Title: Crowd Pleaser
Author: Marie James
Genre: Erotic Romance
Release Date: March 14, 2018

You know those love stories you read about? The ones where the heroine remains untouched, virgin-like, until she meets the man of her dreams?

The stories where she's always in the shadows, always on the outside, no one knowing her name until she meets her one and only? A shy glance across the room at her first ever college party captivates the man she'll soon fall in love with?

This story isn't that.

In this story, everyone who's anyone has seen the heaviness of her tits. They've all heard the soft moan she makes when a man slides inside. They've all heard her whimpers, heard her begging for more.

Her name is Randi Simms.

And she's a Crowd Pleaser.

Crowd Pleaser by Marie James

Rosa's rating: 5 of 5 iScream Cones


"Sin is no fun if it's done with a frown."


Holy Hotness, Batman! Let's all agree that the synopsis is very intriguing and purposely vague. I want so badly to tell you about my experience of going into this story blind...it was an eye-opener. But I must respect the author's decision to, not share more than she did. All I can tell you is that she had me turning up my A/C, in the winter.


I also have to share that I really loved the colorful support characters as well, including the four-legged variety. Crowd Pleaser put me on sensory overload in the very best of ways. I got caught up in the character's lives and mentally meddled in their personal business. I was matchmaking, career planning, pet-sitting, and plotting their futures a page at a time. Though I didn't always feel that way, after careful consideration, I've determined that I can't narrow it down any further, so I am #TeamJERK & #TeamHAVOC. Both of those guys had me melting into a puddle of goo and I'm not willing to give up either.

Being inside the head of the two main characters was exhausting and exhilarating. They shared things with me that they didn't tell each other. So knowing what I knew, and what they didn't know about each other had me wanting to whisper in their ears to help them avoid all the things I saw heading their way. It was like anticipating a trainwreck I saw coming and had no way to stop.

Was all that as clear as mud? Yeah, that's what I figured. But all I can tell you is that I loved it and I think that you will too. I'm looking forward to seeing what the author has for us next. The line forms here...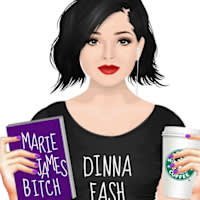 Marie James is a full-time, working mother of two boys and wife of 13 years. She's spent almost her entire lifetime living in central Texas, with only short stays in South Carolina, Alabama, and Florida. She's always wanted to write novels and currently has 16 titles under her belt. Her passions include reading everything under the sun and plotting out new books to write in the future.