Dear Jane by Kendall Ryan
Title: Dear Jane
Author: Kendall Ryan
Genre: Sports Romance
Release Date: October 15, 2018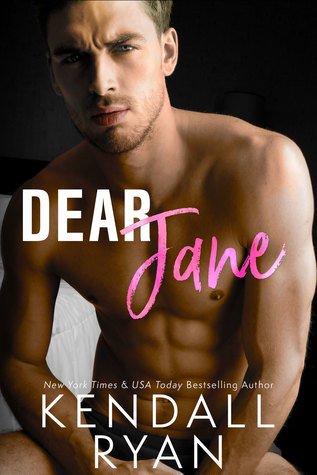 I broke her heart ten years ago and left town.

She hates me, and rightly so. It doesn't matter that the rest of the country loves me, that I'm a starting quarterback with a multimillion-dollar contract. Because when I look in the mirror, all I see is a failure who was too young—and too afraid—to fight for what I wanted.

But I'm not that guy anymore, and all I need is one shot to convince her.

***

He has no idea what happened after he left. And now I'm supposed to work alongside him like we don't have this huge, messy history?

But I'm older now, wiser, and I won't let anything stand in my way of doing a good job for this league. Not even one overpaid, arrogant player who thinks we're going to kiss and make up.

News flash, buddy: I am over you.
Dear Jane by Kendall Ryan

Tricia's rating: 5 of 5 iScream Cones

Dear Jane by Kendall Ryan….ohhh I love you!!!!

*Doing the happy dance*

I finished reading Dear Jane at lunch today and I still have that swoony.. lovie.. dovie feeling in my tummy..haha I fell head over heals in love with Jane and her ex-boyfriend from over 10 years ago- Weston Chase!!! He is one of the great quarterbacks in the NFL and Y'alllll, you know how much I love me a good ole sports book love affair!!! Goodnesss Dear Jane was just this…it is fan-damn-tastic!!!

Jane is working at her dream job, she actually works for her dad and he happens to be the coach for the Hawks. The Hawks are in need of a new quarterback due to their starting quarterback is out for the season due to a ACL injury. Jane's dad lets Jane in on this news of them bringing on Weston Chase to replace the injured player. Weston left his old team after he found out that one of the players on his team was screwing his girlfriend. Jane is soo mad, this boy broke her heart when they were younger. How was she ever going to be able to work with him?? This was her team, she did not want him anywhere near her or this team. Soo ladies, make sure you pick up Dear Jane on release day and find out if these two can work together without killing each other and find out what made them break up in the first place.

I gave Dear Jane 5 "OMG I love this Sports Book" iScream Cones!!! Thank you for another amazing book Kendall Ryan!!! xoxo
A New York Times, Wall Street Journal, and USA Today bestselling author of more than two dozen titles, Kendall Ryan has sold over 1.5 million books and her books have been translated into several languages in countries around the world. She's a traditionally published author with Simon & Schuster and Harper Collins UK, as well as an independently published author. Since she first began self-publishing in 2012, she's appeared at #1 on Barnes & Noble and iBooks charts around the world. Her books have also appeared on the New York Times and USA Today bestseller lists more than three dozen times. Ryan has been featured in such publications as USA Today, Newsweek, and InTouch Magazine.
Hits: 12