Disgrace by Brittainy C. Cherry
Disgrace, an all-new romantic and emotional standalone from Brittainy C. Cherry is available NOW!

Title: Disgrace
Author: Brittainy C. Cherry
Genre: Contemporary Romance
Release Date: June 28, 2018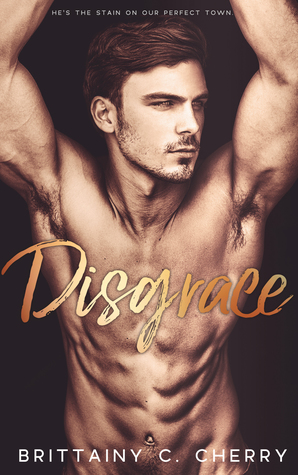 Each day I prayed for my husband to love me again.

After fifteen years together, he walked away from me, and into the arms of another.

I didn't know how to cope. I didn't know my worth. I didn't know how to exist without him by my side.

All I wanted was for him to come back to me.

Then, Jackson Emery appeared.

He was supposed to be a distraction for my mind. A summer fling. A confidence boost to my bruised heart.

We were perfect for one another, because we both knew we wouldn't last. Jackson didn't believe in commitment, and I no longer believed in love. He was too closed-off for me, and I was too damaged for him.

Everything was fine, until one night my heart skipped a beat.

I didn't expect him to make me laugh. To make me think. To make my sadness somewhat disappear.

When our time was up, my heart didn't know how to walk away.

Each day I prayed for my husband to love me again, yet slowly my prayers began to shift toward the man who wasn't right for me. 

I prayed for one more smile, one more kiss, one more laugh, one more touch… 

I prayed for him to be mine.

Even though I knew his heart wasn't destined to love.

*This book was previously known as Between the Notes.*
Excerpt from Disgrace
by Brittainy C. Cherry © 2018
Jackson
"I've read about boys like you in books, ya know," she whispered, her fingers slowly spinning spirals on my chest.
"Oh, yeah? What did those books teach you about boys like me?"
"Well…" She bit her bottom lip, and with a small inhalation, she whispered, "They taught me to stay away."
"Then why are you so close?"
She tilted her head up, looking me straight in the eyes. "Because in those stories, the heroine never ever listens."
"And then there's trouble?" I asked.
"Yes, and then there's trouble."
From the way she said those words, I knew trouble was exactly what she was in search of. We were the classic cliché. She was the good girl next door, I the monster from around the block. We were perfect opposites for the perfect storm, and she was asking me to be her next flaw, her greatest mistake.
And, well, who was I not to live up to her request?
"I could destroy you," I warned.
"Or save me."
"Is it worth the risk?"
"Isn't it always worth the risk?"
The more she touched me, the more I wanted to touch her back. I wrapped my hands around her wrists flipping us around so she was now against the wall with her hands above her head. "I have rules." I leaned in closer, lightly brushing my lips against her neck. God, she smelled good, like peaches and my next sin. "You can't break these rules, either." My tongue rolled from my mouth and circled against her neck before I gently sucked her skin.
She shivered at my touch. "What are they?"
"Rule one," I whispered, my mouth moving across her collarbone. "You never stay the night."
"Check."
"Rule number two," I said, dropping her left arm to the side. Taking my hand to the bottom of her blouse, I slowly raised it up and massaged her skin. "You never develop feelings."
"That's easy enough," she replied, her breaths uneven as I teased at the top button on her jeans. "I don't believe in feelings anymore."
I didn't know why, but that made me sad for her. I, too, didn't believe in falling for people, but that was my norm. Grace seemed the type to believe in something bigger than love, so the fact that her belief was completely gone was a bit surprising.
Maybe we had more in common than I thought.
"Rule number three…we don't talk about my life."
"Like ever?"
"Never."
"Okay."
"And lastly, rule number four…" My mouth brushed against hers, and I slid my tongue slowly across her bottom lip. "If your favorite pair of panties get ripped, don't expect me to replace them."
Disgrace by Brittainy C. Cherry

Kim's rating: 5 of 5 iScream Cones

I have been replaying this book over and over in my mind and this review could not touch how this story made me feel.

Disgrace is emotionally savage and Brittainy is merciless with her story that pulls you under and you willingly allow yourself to drown in your feelings her words produce.

The story starts with Grace in the middle of a separation with Finn. She was actually a very kind, considerate, strong person filled with compassion but in this marriage he made her someone else with his betrayal.

Their separation brought them both back to their small home town, Chester, Georgia. Grace was hoping that over the summer she could make her husband fall back in love with her, but after discovering he wasn't the only one to betray her, she decided to stop living for everyone else and start living for herself. That is when she threw herself at Jackson and shocked the town.

Jackson hated the small gossiping town of Chester, Georgia and they hated him. They deemed him a monster and an addict. His father was a drunk and he was too busy taking care of his father to care or correct them.

He spent his life caring for his father; she spent her life perfect for her family image.
They both had people walk out on them. They spent their lives living for someone else.
They were two broken individuals leaning against one another to keep from falling. So the first time ever they took the time to learn who they were as individuals, together.

A story of betrayal but also hope. A story of faith but also demons. A story of life crashing down around you but a rediscovery of oneself. A story of how a family's past can contemplate your future. An eruption of feelings that has you thinking of these characters and their story even after you put it down.
Hi! I'm Brittainy! Join me as we travel through my mind as a Romance Author. This includes such things as my random thoughts, tricks, tips, things I'm learning, things I'm re-learning, things I'm forgetting, and my weird ways of crafting stories.