ღ♡ AVAILABLE NOW ♡ღ
TRAUMA HAS A WAY OF LEAVING ITS MARK.
It took years to do it, but I can finally look in a mirror
and see more than just the scars.
If only that were true for the rest of the world.
The whispers, the stares, the pity, they're familiar now.
Except his eyes don't linger, his demeanor never changes.
Maybe that's why I trust him
and take the leap to move in with a virtual stranger.
A stranger who might be more scarred than I am.
YET NOT ALL SCARS ARE LEFT ON THE SURFACE.
The day I got a spot at Sailor's Grave Tattoo Parlor, I had everything.
A roof over my head, an honest living, a few friends.
The times when I went without no longer factored.
Until she comes into my life.
Until I offer her a place to stay.
Until she draws me in with that blinding light inside her,
and almost makes me forget
to keep the past in the dark where it belongs.
░99¢░S░A░L░E░ #BadassBikerAlert
✦ #BlogTour ✦ #Excerpt ✦ #Review
Once a Disciple, forever a Disciple.
Candy didn't build a life for herself by being stupid,
regardless what people might think of her being a stripper.
And no matter what her body wants, what her heart wants,
she knows that falling for a fighter is as stupid as it gets.
A Disciple will fight like a savage, but that isn't always the way.
If Hook's life has taught him one thing: to fight for what he wants.
He's fought in the ring, to earn his patch, to protect his family.
And he would fight for Candy, if she'd just give him a chance
to show her that what's between them could be everything.
When the attraction is at full throttle, this biker knows there's no giving up.
✦ #BlogTour ✦ #Review ✦
INSTANT ATTRACTION IS A POWERFUL THING.

Six months of dancing around each other
led to one explosive night
and two weeks without a word.

Only then did I learn the truth:
The man I'd wanted since he walked into Sailor's Grave Tattoo Parlor
was actually an undercover cop.

And the worst part is,
I don't even know his real name.

BUT WHAT IF ATTRACTION ISN'T ENOUGH?

For over eight months I held back.
Except for that one night when I couldn't fight it anymore.
I'd wanted her from the beginning,
but I should have kept waiting until my secrets weren't between us.

Now, I have the ultimate challenge before me:
convince the inked goddess of a receptionist
to at least let me keep her safe,
even if she won't give me another chance.
✦ #BlogTour ✦ #Excerpt ✦ #Review ✦
"MOVING ON" IS JUST ABOUT ACTING THE PART.
I would never say as much to the people I love, but it's the truth.
They want to see me doing better.
They want to see me living for more than just my son.
So I let them.
Every day is about putting on a face,
pretending to get over the loss of my husband.
And every day is a lie.
UNTIL MOVING ON IS A TEMPTATION THAT CAN'T BE DENIED.
I'm not about to claim I'm a genius,
unless we're talking with a tattoo gun or woman in my hands,
but I'm smart enough to know the beauty serving up my cupcake fix is off limits.
Really, I know.
Too bad the lure of putting a real smile on Kate's face is so strong.
When she visits Sailor's Grave Tattoo Parlor,
I can't help but want to leave my mark.
✦ #BlogTour ✦ #Excerpt ✦ #Review ✦ #BadassBikerAlert ✦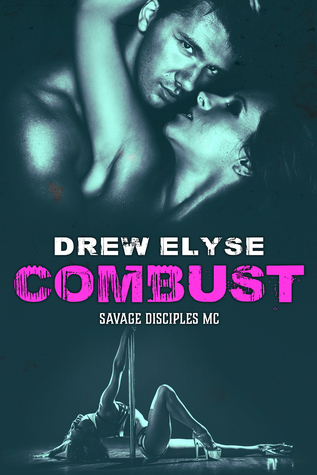 Once a Disciple, forever a Disciple.
Man whore.
Ex-con.
All-around asshole.

Daz is called a lot of seedy things.

But his brothers know there's more to him

even if it is buried deep beneath the surface.


A Disciple will fight like a savage and never give up.


As a stripper, Avery is no stranger to judgment.

That doesn't stop her from assuming Daz is nothing more than a hot body, though.

But when tragedy lets her see behind the cocky-jackass exterior,

there's no denying the truth.


For this biker to go down, there has to be more than sparks—he needs full combustion.