Drunk Dial by Penelope Ward
Title: Drunk Dial
Author: Penelope Ward
Genre: Contemporary Romance
Release Date: August 19, 2017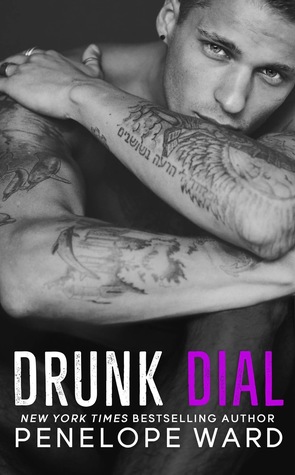 From New York Times bestselling author Penelope Ward, comes a new, sexy standalone novel.

It seemed like a good idea at the time. Look up Landon Roderick, that boy from childhood whom I'd never been able to forget—even though he so easily forgot about me—and call him. 

Then again, anything sounds like a good idea when you've had a little too much wine before bed, right? It was supposed to be just a quick, meaningless, prank call. Instead, I went off on him—unloading thirteen years of pent-up emotions. 

I didn't think he'd call me back. 

I certainly could never have anticipated the weeks of sexually tense phone conversations that followed as I got to know the man he'd become. 

Turned out, Landon had never really forgotten me, either. That special connection we had was still there. I opened up to him, but there were also things about me he didn't know. And he had his own secrets. 

Over the countless hours we talked on the phone, I wondered what would happen if we actually saw each other. One night, I did something impulsive again. Only this time, I went to the airport and booked a ticket to California. We were about to find out if one phone call could bring two lost souls together or if my drunk dial really was all just a big mistake.

A complete STANDALONE.




Drunk Dial by Penelope Ward Chantal's rating: 5 of 5 iScream Cones

Penelope has captured my interest for a long time and I still see why after reading this incredible book! This book is about once friends at a young age reconnecting years later. She wrote the book in just the female (Rana's) POV.

Rana is a belly dancer at a Greek restaurant. She comes as a product of prearranged marriage. Her mother was not happy and her father worked hard to keep food and shelter for them. Rana and her mothers relationship is barely there. While her father and her work to build it again. She is exotic looking and does everything for others before herself.

Landon is chef and owner of a food truck, that is extremely hopping in California. He found when he was a teenager that he was adopted and wanted to discover more about his birth mother. Landon is all tattooed up, a couple of piercings (????), and he comes off like a bad boy.

Rana is feeling nostalgic and decides to try to find her old childhood friend, Landon online. She locates him and decides after having a few glasses of wine to call him. What she didn't expect was for him to answer and to also remember her. Landon is blown away that she called! They start with simple phone conversations, that eventually lead to pictures being shown on Landon's part. It throws Rana off and she is terrified to send one back. Landon wears down her and she sends one. What Landon sees is more than beauty, he sees the woman he needs in his life. After a few days of silence after an intense conversation, Rana tries to reach him and learns he was hurt.

What does Rana do? Will a relationship based on long distance work for them? Can Landon prove to Rana that she is worth more to him?

I loved everything about this book. My favorite part was that they reconnected and it was so beautiful. I always had a soft spot for a friends to lovers story! I highly recommend this book. Excellent work Penelope!!
Penelope Ward is a New York Times, USA Today, and #1 Wall Street Journal Bestselling author of thirteen novels. With over a million books sold, her titles have placed on the New York Times Bestseller list sixteen times. She is the proud mother of a beautiful 12-year-old girl with autism (the inspiration for the character Callie in Gemini) and a 10-year-old boy. Penelope, her husband, and kids reside in Rhode Island.