💗 COVER REVEAL 💗
At Santa Cruz Central High School, they called them the misfits, the outcasts, the weirdos. But most of us knew them as the Lost Boys...

Holden Parish survived his parents' horrific attempts to make him "the perfect son." After a year's stint in a Swiss sanitarium to recover, he has vowed to never let anything--or anyone--trap him again. Brilliant but broken, he seeks refuge behind alcohol, meaningless sex, and uses his wicked sense of humor to keep people away. He only has to ride out one year in the coastal town of Santa Cruz with his aunt and uncle before he inherits his billions and can make his escape. Disappear.

Falling in love is not in the plans.

River Whitmore. Star quarterback of the Central High football team, Prom King, Mr. Popular, ladies' man. He leads the perfect life...except it's all a lie. His father has River's future in the NFL all planned out, while River's dream is to run the family business in the town that he loves. But his mother's illness is tearing the family apart and River is becoming the glue that holds them together. How can he break his father's heart when it's already shattering?

River's carefully-crafted façade explodes when he meets Holden Parish. A guy who dresses in coats and scarves year-round, drinks expensive vodka, and spends his free time breaking into houses for the fun of it. They're complete opposites. River seeks a quiet life, away from the spotlight. Holden would rather have dental surgery than settle down.

Holden's demons and River's responsibilities threaten to keep them apart, while their undeniable attraction crashes them together again and again, growing into something deep and real no matter how they resist.

Until one terrible night changes everything.
💗 RELEASE BLITZ / REVIEW 💗
How long would you wait for love?
Max Kaufman was kicked out of his home as a teen and his life has been an uphill battle ever since. From addiction and living on the streets, to recovery and putting himself through nursing school, he's spent the last ten years rebuilding his shattered sense of self. Now he's taken a job as a private caretaker to Edward Marsh III, the president and CEO of one of the largest pharmaceutical companies in the world. Max soon learns Marsh's multi-billion-dollar empire is a gold and diamond-encrusted web of secrets and lies.
The longer Max works and lives with the Marsh family, the tighter the secrets tangle around him. And his heart—that he's worked so hard to protect—falls straight into the hands of the distant, cold, and beautiful son of a dynasty…
Silas Marsh is set to inherit the family fortune, but his father is determined his heir be the "perfect" son. Before Silas can take over the company and end its shady business practices, he must prove himself worthy…and deny his true nature.
Silas must choose: stand up to his father by being true to himself and his undeniable feelings for Max. Or pretend to be someone he is not in order to inherit everything. Even if it means sacrificing a chance at happiness and real love.
#standalone #MM #billionaire
✦ #BlogTour ✦ #Excerpt ✦ #Review
Remember us...when I can't.
Thea Hughes has five minutes to live.
A car accident stole her parents and left her with the second-worst documented case of amnesia in the world. She now has only minutes of experiences, of consciousness, of life…before her memory is wiped clean. The once effervescent artist with a promising future is reduced to scribbling with pens and paper, living an empty, quiet life, three hundred seconds at a time.
Jim Whelan is on autopilot.
A foster kid shuffled around the system since birth, he's lived his entire life without knowing love…and it's taken its toll—until he learned to fight back, carry his armor, and keep his head down.
Working as an orderly in the Blue Ridge Sanitarium, deep in Virginia countryside, Jim looked up…and found Thea.
When Thea has the chance to break free of her five-minute prison with a risky, experimental surgery, it could lead them both to an epic love they never thought possible… or one that could require the ultimate sacrifice.
***
50 First Dates meets Awakenings in this emotional love story by international and best selling author, Emma Scott.
WARNING A Five-Minute life contains subject matter that might be sensitive to some readers.
#standalone #newadultromance #notparanormal
✦ #NewRelease ✦ #Review ✦
Never again would I allow my heart to become the plaything of someone else.
Never again would I let a man (or men) come between me and my goals.
Never again would I love without feeling the fullness of that love in return.
Not until I knew it was real. And if that took me a lifetime to find, so be it.
Those were my vows, and after all that had happened with Connor and Weston, I was determined to keep them. To protect my heart.
And then he came home, and my vows became his promises.
He held my heart in his hands with reverence and care.
He helped me find my soul's greatest purpose in life.
He loved me with a love so pure and vibrant, I knew I'd never feel anything like it in a hundred lifetimes.
It was real.
Until it wasn't.
Until it all came crashing down when I discovered the deep love I thought I'd found was nestled in a web of lies—so soft and silken I hadn't noticed it was there.
Until it was too late.
**********
Long Live the Beautiful Hearts is the emotional, heart-wrenching conclusion to the Beautiful Hearts Duet by bestselling author, Emma Scott, and is inspired by the classic tale, Cyrano de Bergerac. (Roxanne) THIS IS NOT YOUR TYPICAL LOVE TRIANGLE #confusedhearts #notamenage
THIS BOOK IS NOT A STANDALONE. It should not be read without first reading Bring Down the Stars
✦ #BlogTour ✦ #Excerpt ✦ #Review ✦ #Giveaway ($50.00 Amazon Gift Card + Paperback)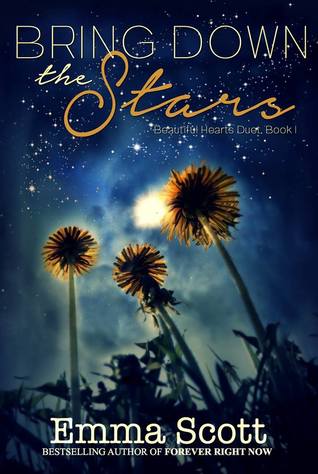 I fell for Connor Drake. I didn't want to; I fought against it, but I fell in love with him anyway. With his words. With his poetry. With him. The gentleness and beauty of his soul that speaks directly to mine. He writes as if he can feel my heart, hear its cadence and compose the exact right lyrics to accompany every beat and flow.

I'm in love with Connor…so why do I feel an inexplicable pull to his best friend, Weston? Grouchy, sullen, brooding Weston Turner, who could cut you down with a look. Fiercely intelligent with a razor sharp wit and acid tongue, he's the exact opposite of Connor in every way, and yet there's electricity in the air between us. The thorny barbs Weston wraps around himself can't keep me away.

But the more time I spend with these men, the more tangled and confused my emotions become. When they both sign up for the Army Reserves during a time of increasing strife in the Middle East, I fear I'll never unravel my own heart that sometimes feels as if it will tear straight down the middle…for both of them.

**********
Bring Down the Stars is an emotional, angst-filled novel of unrequited love by bestselling author, Emma Scott, and is inspired by the classic tale, Cyrano de Bergerac. (Roxanne) It is Book I in the Beautiful Hearts Duet, coming this summer. Book II, Long Live the Beautiful Hearts, to be released a few weeks later. THIS IS NOT YOUR TYPICAL LOVE TRIANGLE #confusedhearts #notamenage