Hooked On You (Chicago Rebels, #3) by Kate Meader
Title: Hooked on You
Series: Chicago Rebels, #4
Author: Kate Meader
Genre: Sports Romance
The eBook is on sale May 7, 2018!
The mass market is on sale May 29, 2018!
Mass Market Paperback • Price: $9.99 • ISBN: 9781501168574
eBook • Price: $5.99 • ISBN: 9781501180903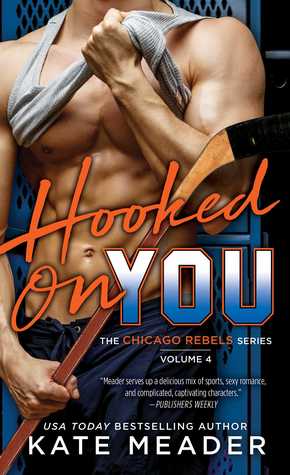 Violet Vasquez never met her biological father, so learning he left his beloved hockey franchise—the Chicago Rebels—to her is, well, unexpected. Flat broke and close to homeless, Violet is determined to make the most of this sudden opportunity. Except dear old dad set conditions that require she takes part in actually running the team with the half-sisters she barely knows. Working with these two strangers and overseeing a band of hockey-playing lugs is not on her agenda…until she lays eyes on the Rebels captain and knows she has to have him.

Bren St. James has been labeled a lot of things: the Puck Prince, Lord of the Ice, Hell's Highlander...but it's the latest tag that's making headlines: washed-up alcoholic has-been. This season, getting his life back on track and winning the Cup are his only goals. With no time for relationships—except the fractured ones he needs to rebuild with his beautiful daughters—he's finding it increasingly hard to ignore sexy, all-up-in-his-beard Violet Vasquez. And when he finds himself in need of a nanny just as the playoffs are starting, he's faced with a temptation he could so easily get hooked on.

For two lost souls, there's more on the line than just making the best of a bad situation… there might also be a shot at the biggest prize of all: love.
Excerpt from Hooked On You (Chicago Rebels, #3)
by Kate Meader © 2018
She blew out a breath that was half growl, picked up a can of Italian wedding soup, and examined the ingredient list like she was studying for a test. Why wasn't she taking this opportunity to get under his skin using those taunts that tripped off her tongue like sensual ninja knives?
"Have I offended you in some way, Violet?"
Keeping her chin dipped, she shook her head, but it was a shake of disbelief, not of disagreement with his question.
"Violet, look at me."
Glittering eyes snapped to his, in them a flash of something—a visceral response to his demand—but it was gone so quickly that even the rewind called him a liar.
"Has something happened?"
"Look, St. James, you and I have never meshed, so we don't need to pretend to get along. We just ran into each other at the store and you 'saved' me from the unseemly interest of a fellow shopper. ¡Maravilloso! ¡Gracias! Now you can take your steel buns and your sexy scowl off in the opposite direction."
Color flagged her cheeks, making her olive skin glow. She was furious, and he still didn't know why. He was also furious, and he had a better idea of the reason.
She'd changed the social contract. They'd been moseying along with her teasing and taunting and flirting, and him acting like it was the worst thing ever to happen to him. Like Violet's attention was a fresh slice of hell, because in a way it was. She reminded him of everything he couldn't have. She reminded him of the man he used to be. His body came alive around her, and alive was dangerous. Alive was the opposite of numb, and numb was his best defense against the demons whispering in his ear.
 One drink won't hurt. Thirst like yours can't be quenched with anything but whiskey.
If he allowed himself to want her, it was a slippery slope to succumbing to the demons at the door. Of course he couldn't tell her this, so instead he latched on to her words.
"Steel buns?" There was also "sexy scowl," but he figured he'd start with the ass stuff.
She rolled her eyes, then coasted those same eyes down his body, half hidden by the grocery cart. "As if you don't know."
"That I have an ass you could bounce a puck off of?" He twisted to check himself out. "S'pose I do, lass."
She burst out laughing and muttered something in Spanish.
"What's that?"
"Not for your ears, Scot."
One day she'd tell him. One day, he'd get it out of her, preferably while her body arched into his and his body drove into hers.
Hooked On You (Chicago Rebels, #3) by Kate Meader

Rosa's rating: 5 of 5 iScream Cones

"O Captain! My captain!"

Bittersweet, the final installment of the oh-so-amazing #ChicagoRebels series. I've loved every page of every book and I'm sad it's over. But what a perfect finale #HookedOnYou was...sigh. ❤

I met Bren, the surly Scott, in previous books. He's the captain of the team, and he's very lucky to not have lost that title with his past shenanigans. He let the bottle get the best of him and hit rock bottom, risking his career and his family. When he showed up to a game drunk, Harlow, the team's new female owner gave him "orders to dry out or get out." That was the wake-up call he needed to realize what he had to be thankful for and what was at stake.

I have to admit, Violet is my favorite of the three sisters. She's got enough sass and spicy Latino flavor to have all the players drooling over her. She takes her self-appointed job of team morale-boosting very seriously and finds creative ways to entertain the men. Not having been raised on hockey like her sisters, she doesn't have sport-related skills to offer, but support and enthusiasm make her a well-loved addition to the team family.

Bren has been attempting to keep his eyes and other parts of his body off of Violet from the first moment he saw her. He knows that he has much more important things to focus on as he tries to reclaim his family and his future. But the damn woman drives him crazy. She pushes all of his buttons, on purpose, making him feel #Quangry, queasy and angry. As his team gets closer and closer to their goal of winning the cup, he finds himself between a rock and a hard place. The hard place is between his legs and the rock is his new nanny. How the hell is he supposed to resist her when she's in his house, with his children, worming her way into all of their hearts?

Let me tell you, being inside Violet's head is better than chocolate. What comes out of her mouth is unfiltered, but her internal dialogue is even better. I hate grocery shopping, but going with Violet and Bren was an experience that brought a smile to my face. "Meet 'n' greet-slash-eye-fuck in aisle five."

The explosive chemistry and banter between Vi and 'Mr. Kilt 'n' Built' is hotter than her #Dicktabase and almost melted my Kindle. How cruel of the author to not share the Tumblr handle for us to stalk, right? I also enjoyed the banter between sisters. They are all so opposite, but still supportive of each other as they grow closer while carrying out their father's wishes. Their sense of humor kept me giggle-snorting throughout. I especially got a kick out of, Sheesh, I'm thinking we need to put something in the player's contracts. Must be willing to sleep with management."

And of course, the suspense of whether the girls will be able to meet the terms of their father's will regarding the future of the franchise is exciting too. Will the #Chicago Rebels win the Stanley Cup, or will winning the hearts of the sisters be enough for the NHL players who fell for them? I happened upon this author by accident, but I guarantee that I'll keep reading her books on purpose. I'm already suffering withdrawal and I'm anxious to see what she has for her readers next. The line forms here...
Originally from Ireland, Kate Meader cut her romance reader teeth on Maeve Binchy and Jilly Cooper novels, with some Harlequins thrown in for variety. Give her tales about brooding mill owners, oversexed equestrians, and men who can rock an apron, a fire hose, or a hockey stick, and she's there. Now based in Chicago, she writes sexy contemporary romance with alpha heroes and strong heroines (and heroes) who can match their men quip for quip. Visit her at KateMeader.com.