Hound (Cerberus MC 2.0 – Second Generation, #2) by Marie James

Title: Hound
Series: Cerberus MC 2.0 - Second Generation, #2
Author: Marie James
Genres: New Adult, MC Romance, Standalone
Release Date: January 24, 2018


My first job with the Cerberus MC was to grab a girl from a seedy bar. Easy money, right?

The moment I realized the blonde I was hunting wasn't around, I ended up captivated by a redhead dancing on the stage. With her striking features and sinful body, I knew she was trouble, but that didn't stop me from making her mine that night.

When I learned that she WAS the job, everything became clouded. 

I was only looking for a one night stand, but when the dust settled and she ran, my only desire was to chase her. 

Should I risk my job, and quite possibly my life, in order to have her? Would she even stay if I caught her?

Hound (Cerberus MC 2.0 - Second Generation, #2) by Marie James

Rosa's rating: 5 of 5 iScream Cones


"She was a sleek piece of metal and I am a magnet, feverishly attracted to her."


Hound is the 2nd book in the Cerberus MC 2.0 series, and it's so damn good it makes me want to go back and read 1.0 to get to know the originals better as they are still present and running the club.

The author blew my mind with Hound's character. He is so deliciously alpha he had me melting and mentally saying 'Yes, Sir.' He's bossy and badass and he doesn't back down. I'm glad that I got to enjoy his first meeting with 'her' reading his POV. I needed his thoughts and true feelings because that's not always what he shows others. And what he showed her was definitely not his best, but he did make an impression. She won't be forgetting him anytime soon, even though she doesn't even know his name. And he won't be forgetting her either, regardless of whether her eyes are green or blue.

I confess that when I first met 'her' while reading Lawson, she didn't make a good impression either. I didn't like the version of her that I saw. But I soon learned that she had many hidden layers that would not be uncovered until I moved on to the next book. Apparently, they just needed to meet each other for their pasts to catch up with their future. Was it a coincidence or fate that brought them together? She started out as his one-night-stand and ended up being his job. But the line had already been crossed. He can't undo what he's already done, and he doesn't want to. The memory of that night will stay with both of them forever. And I don't think I'll be forgetting it anytime soon either.

She's a runner. He's a chaser. He's really good at finding people that are lost. But if she doesn't want to be found, she'll only run again if he brings her back...or will she? When did she become more than a job? If he risks everything for her, will he get to keep her? Does he want to?

Holy hotness Batman! I kid you not, my kindle almost melted from the heat Hound was putting out. This book was so good that when I got to the last page I was ready to start over and read it again. And if I was reading a paperback instead of an ebook some parts would definitely be dog-eared...sigh.

I am fully invested in the Cerberus MC now. I'm addicted and you don't want to get between me and the next book in the series. The line forms here...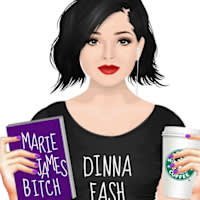 Marie James is a full-time, working mother of two boys and wife of 13 years. She's spent almost her entire lifetime living in central Texas, with only short stays in South Carolina, Alabama, and Florida. She's always wanted to write novels and currently has 16 titles under her belt. Her passions include reading everything under the sun and plotting out new books to write in the future.