Hurricane Hearts (Storm MC Reloaded, #1) by Nina Levine
Title: Hurricane Hearts
Series: Storm MC Reloaded, #1
Author: Nina Levine
Genres: MC Romance, Military
Release Date: June 23, 2019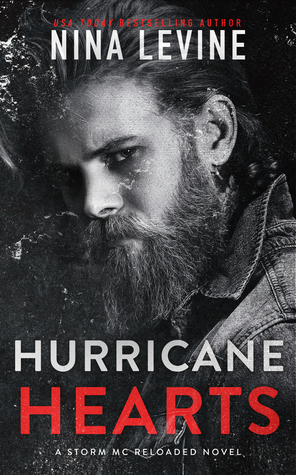 A standalone Storm MC Reloaded novel.

She walked away from me five years ago.
She ran and took my heart with her.
Now I want it back, and hers too.
She can tell me no.
She can try to hide.
She can take her time.
But I'm a man on my knees.
Birdie Beaumont will be mine again.

My first lie had been to save us.
My second lie had been to save him.
My third lie broke me.
I still love him just as much as I did when I left him.
But I can't have him.
Not after what I did.
Not after keeping it from him all this time.
Winter Morrison will never forgive me for what I did.
5 iScream Cones
"Just because I talk too much, you want to shut me up with your dick."

I've been a member of the Nina Levine Fan Club for years. Once I read my first Storm MC book I never looked back. I've taken my #AuthorStalker duties very seriously and seeing the cover reveal for Hurricane Hearts had me bouncing with excitement to get my hands on it.

The mystery surrounding the reason that Birdie left him tortured me right along with Winter. The story is told in dual POV so I knew what they were thinking, but only when they thought it. So, I knew that they still loved each other deeply. I knew that he was determined that she would be his again and she wanted that too...but whatever reason caused her to leave him still troubled her. I tried using my ESP to make her share it with me, but that worked on her about as well as it does on my hubby, as in not at all.

Winter is hot as hell and I was having a seriously hard time coming up with anything worth leaving his fine ass over. Especially once I spent a few minutes with them and almost got zapped by the sparks shooting between them. Their connection was just as intense as it had been before, if not more so. I hoped that she was wrong when she predicted, "The past was going to catch up with me and destroy him."

While Winter is a club member, it's more of a fact than the focus of this story. However, some very intriguing details come up that lay some groundwork for future club business. The deep emotional connection between Winter and Birdie is intact, but the years of guilt, pain and unanswered questions have fractured their love. It's still there, but "was love ever enough?"

The author really tugged on my heartstrings with this one. I felt so much for this couple and wanted to sprinkle some magical forgiveness dust over them to take away the pain of their past. I wanted so badly for them to find a way to move forward and be happy together. They are perfect for each other. If they couldn't make it work, what hope is there for the rest of us? But, just because they were perfect for each other didn't mean they were perfect. Would he ever be able to forgive her?
Dreamer.
Coffee Lover.
Gypsy at heart.

USA Today Bestselling author who writes about alpha men & the women they love.

USA Today Bestselling Author Nina Levine is an Aussie author who writes alphas with a side of dirty and sassy women who don't hand their hearts over easily.

When she isn't creating with words, she loves to create with paint and paper. Often though, she can be found curled up with a good book and some chocolate.

Sign up to Nina's newsletter for alerts when new alphas are ready for you
Enter to win a $30.00 Book Money!