Infamy (RiffRaff Records, #3) by L.P. Maxa
Grab this all-new Rock Star Romance Today!
 Title: Infamy
Series: RiffRaff Records, #3
Author: L.P. Maxa
Genres: New Adult, Rockstar Romance, Contemporary Romance
Release Date: November 16, 2017

ONLY FOR…

Landry Cole's life began when she was nine. Until then the day-to-day turmoil of her early childhood was the stuff of nightmares. Her father, his wife, and all her aunts and uncles showed Landry unconditional love, and under their care, she bloomed. But she never forgot. Fast forward to the fifth year of her surgical residency, and from the outside, Landry's got it going on. Inside, loneliness and betrayal color her life until she meets the outrageous and daring Clashing Swell drummer, Brody Frost.

THE SHORT TERM

Brody's life was golden. He surfed every morning, his band, Clashing Swell, had just signed with RiffRaff records, and he was free from emotional attachments. Until he met Landry Cole. To say she took his breath away was an understatement. But she was a princess to rock royalty, and Brody was no one from no where. Sure, the tour the band was about to undertake would change all that, but he wanted Landry now. When she told him
they were short term, she wasn't going to be a tour widow, he thought he'd take whatever she would give him. Little did he know she was about to give him everything.




As soon as my aunt and uncle turned the corner, Brody whispered in my ear. "Lucky for you, fun is my specialty."

I turned to him, smiling despite myself. "Oh yeah?" Clearly, Brody wasn't the type of guy that needed to be encouraged. Yet, for some reason, I couldn't seem to help myself. I blamed the wine and fresh ocean air for making me act as crazy as the drummer.

He nodded, his sexy smirk firmly in place. "You wanna see?"

I should have said no. But, then again, maybe Aunt Lo was right; some fun would do me good. Plus, Brody wasn't hard on the eyes, not by a long shot. "Yes." Before I knew what was happening, he picked me up, threw me over his shoulder and headed down the long cement and cinder-block hallway. "What are you doing?" I screeched. "People will see us."

"All anyone can see right now is your perfect little ass." He slapped it lightly.

I never did things like this—ever. The last guy I dated was a heart surgeon, with an ego the size of Texas, and little to no sense of humor. He'd asked me out on a date, and it'd taken him four more to get in my pants. And then he'd cheated on me…so really, I should be happy Brody seemed like Dr. Douche's polar opposite. "Where are you taking me, caveman?"

"To have fun, of course." He turned a corner to the left, this hallway much darker than the last. Another turn to the right, and suddenly it was pitch black. He placed me on my feet, and I held onto his arms while the blood rushed back into my head.

"Are we in a janitor's closet?" The room smelled vaguely of chemicals.

"I think so." He was close, standing right in front of me. The way he placed his hands on my hips was like we knew each other. Like we had been seeing each other.

"And this is fun?" I was biting my lip. Standing in a closet with a complete stranger wasn't a normal Landry Cole move. It was more of an old-school Jacks Cole move, if we were naming names.

"Are you excited and slightly terrified?" He was closer now, his words whispered against my lips.

"Yes."

He put a hand in my hair, his fingers rubbing my scalp. "Then we are well on our way to real fun, baby cakes." And then he kissed me.

I had butterflies in my stomach and goosebumps on my skin. He tasted like the sea air and coconuts; like summer. I ran my hands up his arms, more than a little surprised at myself. I didn't know why I wasn't pushing him away. Why I wasn't demanding to be let out. Who was this woman he'd made me become?

"God, you taste good." He bent me backward, kissing me deeper. When he stood up, I climbed him like a damn tree then wrapped my legs around his waist.

Call me crazy, but I wanted him. I wanted this wild man to fuck me in a supply closet. I wanted it bad.

He walked forward, pushing my back against another cinder-block wall. I freed my hands from his messy blond hair, fumbling with his button and zipper trying to get his pants off. If I was going mental I might as well go all the way, right?

Tomorrow I would go back to being a responsible surgeon.

Tomorrow everything would go back to boring. But tonight—tonight I wanted fun.

Infamy (RiffRaff Records, #3) by L.P. Maxa Rosa's rating: 5 of 5 iScream Cones


Oddly sweet…


I'm a big fan of the author's Devil's Share series and love that those favorite rockstar characters are the parents in this new RiffRaff Records series. What a perfect way for them to stay involved in the music industry and be involved in their kid's lives, right?

Not that all of the rocker's children are musicians, they aren't. Landry is the daughter of the famous Devil's Share guitarist, Jacks. She didn't meet him until she was nine years old, but he welcomed her with open arms. However; that didn't erase the painful memories of her first nine years without him in her life. She's currently working non-stop at a hospital doing her 5th-year surgical residency. She rarely takes time for herself, but when one of her favorite uncles wants her to attend a concert for one of the label's new bands, she can't refuse him. It was her Uncle Luke that taught her to play drums and they are close.

I'm sure that was why her focus was on the sexy drummer of Clashing Swell. She couldn't deny that Brody Frost was talented. It was his sexy smirk and irresistible charisma that kept her eyes glued to him during his on-stage shenanigans. But it was his off-stage shenanigans that made the biggest impression. She warned him that it was just a fling, and he agreed that they would just have fun until his band left on their concert tour.

As you probably already know if you've been reading this series, it's impossible to keep all the cats in the bag with such a big family. But it's always the parents that are the last to know, right? And it's always amusing when it happens. I'd love to be a fly on the wall during some of their big family get-togethers at the compound.

I really enjoyed getting to know the grown-up Landry. She is a hard worker and determined to accomplish her career goals. She also intends to keep her personal life personal, without the interference of her well-meaning family. But being a girl among so many overprotective men, of course they are going to meddle, right? Good luck keeping her delicious drummer all to herself. Their attempts to hide their relationship is pretty funny as her nosy family gets it all wrong…again.


Brody is irresistible, I can see how Landry found it impossible to resist him. He had me at #BabyCakes too. Hopefully, his charm will be just as effective with the other members of her family when they discover he's been dipping his drumstick in their princess. Something to look forward to, huh?

I can't wait to see which of the spawn will be featured in the next book. I've got my eye on the twins. The line forms here…
START THE SERIES TODAY!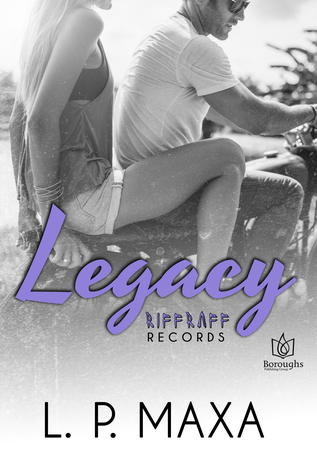 L.P. Maxa lives in Austin, Texas with her husband, daughter, 3 rescue dogs, 1 cat – the fish died – and one bunny who doesn't seem to like them. She loves reading romance novels as much as she love writing them. She says, inspiration can come from anywhere: a song lyric, a quote, a weekend with friends. The tiniest things can spark amazing stories. She loves to hear from readers.
Hits: 14