Irrevocable (The Exiled Eight MC, #1) by Addison Jane

Title: Irrevocable
Series: The Exiled Eight MC, #1
Author: Addison Jane
Genre: MC Romance, Suspense
Release Date: August 7, 2018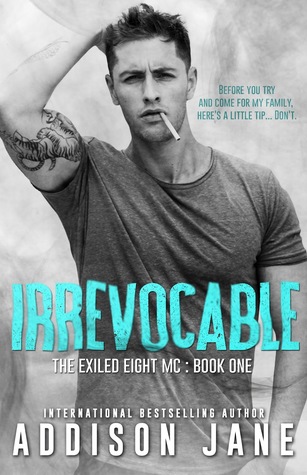 Our pasts were a part of us.
Definitively.
Irrevocably.
Mine hijacked my dreams every night, drowning me in guilt and staining my hands red. 
It wasn't just a part of me, it stole a piece of me—the piece that stopped me from letting people get too close. 
And I'd become pretty damn good at playing the untouchable asshole card just to keep them away. 
But apparently, Dakota Samuels didn't get that memo. 
From the moment she accidentally walked in on me naked, she began to demolish any and every wall I'd ever built. 
She was sexy and tenacious.
And I was addicted to the way she looked at me.
To the way she fought for me.
To the way her body felt beneath mine. 
We were both done with running from the demons of our pasts.
They were going to find us. 
They were going to try and destroy us. 
And they may have won before, but like hell I was going to let them take her from me too. 
Because if they tried, this time the blood I saw in my dreams would be theirs.
Irrevocable (The Exiled Eight MC, #1) by Addison Jane

Rosa's rating: 5 of 5 iScream Cones

"I was in complete and utter shock. I'd been cockstruck"

I was excited to learn that one of my favorite authors was starting a new MC Romance series, and once I started reading I was even more excited to find some of my favorite characters as well. Yes, I'm happy to report there are some Brothers by Blood MC members present in this story.

I suggest that you gather everything you'll need for a long while before you start reading because once you start, you won't want to stop. Your attention will be caught in the very first chapter and you'll be spellbound from that point forward. The sparks fly between the two main characters, whom the author chose not to name in the synopsis, so I won't either. But, let me just say that the saying that there is a fine line between love and hate is true in their case. They bickered like they hated each other, but nobody was fooled, except them.

They were both loaded down with baggage, their painful pasts affecting their outlook on life in a negative way. But neither unable to resist the pull they feel toward each other. So, their solution was to push each other's buttons, constantly arguing and annoying as much as possible. Yeah, you guessed it. The sexual tension is off the charts.

"Fuck, fuck, fuck. It was like she could see every goddamn secret I was trying to hide. It was as if she just fucking knew, like she could not only read my mind, but read my soul."

The author amped up my adrenaline by creating a secretive and suspenseful situation that the character shared with me, but not with everyone. So, of course, I was a worried mess as the danger increased and the possible fall out loomed too close for comfort. If it wasn't the club enemies it was the scorching sex scenes that had my pulse racing and my eyes glued to the pages. I loved all of it and I can't wait for the next installment in The Exiled Eight MC series. The line forms here…
Addison Jane is a born and bred kiwi girl with a passion for romance and writing.

When she gets the chance she enjoys the little things in life such as reading, dancing, music, and Facebook, but her world really revolves around the little girl who calls her Mum. It's an awkward balance between alpha males and Disney princesses but it works.

Growing up on a small farm next to the beach will always make her a country girl at heart. But since moving away to a small town close to the city she's discovered a dangerous love for shopping.

Writing stories has been something that's come naturally since she was young, and with the massive support of her friends and family, she finally decided to step out of her comfort zone and share them with the world.

She enjoys bringing her books to life with strong female leads, sexy passionate men and a rollercoaster of twists and turns that lead to the happily ever after that her readers desire.