Category:
J.D. Hollyfield
✦ #BlogTour ✦ #Excerpt ✦ #Review ✦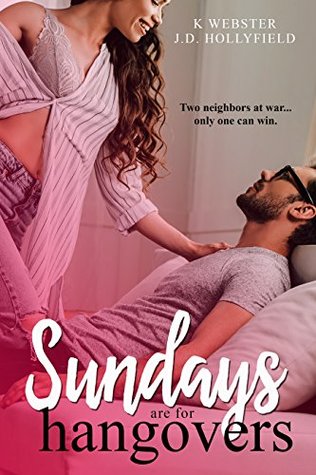 For nearly a year, they've been at war.
Cops. Forks. Eggs.
Two feuding neighbors who couldn't be more opposite, forced to live next door to one another.
Neither is backing down.
She drives him crazy with her loud nineties rap music.
He gets under her skin the way he obsesses over his stupid perfect lawn.
She fantasizes about having sex with the hot nerd—but with duct tape over his dumb mouth.
He has dirty dreams of the bombshell beauty where he bangs the crazy right out of her—nightmares of course.
Anger isn't the only thing heating up between these two.
They think this is a battle only one of them can win…
The growing attraction between them, though, seems to be far more stubborn than the two of them combined.
✦ #ReleaseTour ✦ #Review ✦
My name is Katie Beller, but the world, as of late, knows me as Bailey Swan, the love guru behind my bestselling book.
Want the shortened version? Here it is:
Love was stupid.
A fake. A farce
Love was broken.
Women everywhere were eating up my advice and fighting back against fake love. My book started a relationship revolution. And I stood by my story.
Until I met Charlie Bates.
When I throw all my own rules and advice out the window after a week-long rendezvous, I start to wonder just how real my words were. Maybe love might be just a little more complicated than I thought.
Maybe I'm the one who's love broken.
✦ #BlogTour ✦ #Review ✦ #Giveaway ($25.00 Amazon Gift Card) ✦
*** HOTCOM NOVEL *** HOTCOM NOVEL ***
Lies, lust, and wickedly intriguing expectations.

A fresh new start for Kasey Bishop leads her to a night she most definitely won't forget. An inviting, yet indecent proposal that shows her she might not be as innocent as she once seemed.

Deceit, desire, and the hunger for forbidden expectations

She was off limits. That's what made her the perfect pawn in Creed Monroe's plan for revenge. Until he got his first taste.

Explosive chemistry, heat, and an instant connection…these two might exceed each other's expectations.

When the roguish bad boy is forced to come clean as his vengeful secrets begin to unravel, will Kasey continue to accept Creed's forbidden expectations? Or will she have a few expectations of her own?