✦ #BlogTour ✦ #Excerpt ✦ #Review ✦ #HockeyHunk ✦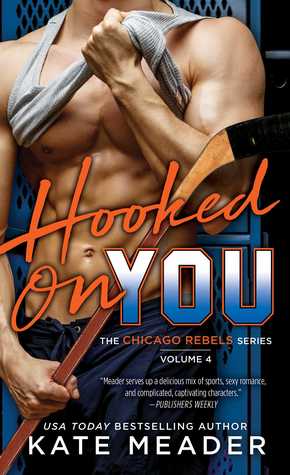 The steamy Chicago Rebels series returns with this racy and sassy tale of embittered hearts, second chances, and going for the goal—on and off the ice.

Violet Vasquez never met her biological father, so learning he left his beloved hockey franchise—the Chicago Rebels—to her is, well, unexpected. Flat broke and close to homeless, Violet is determined to make the most of this sudden opportunity. Except dear old dad set conditions that require she takes part in actually running the team with the half-sisters she barely knows. Working with these two strangers and overseeing a band of hockey-playing lugs is not on her agenda…until she lays eyes on the Rebels captain and knows she has to have him.

Bren St. James has been labeled a lot of things: the Puck Prince, Lord of the Ice, Hell's Highlander...but it's the latest tag that's making headlines: washed-up alcoholic has-been. This season, getting his life back on track and winning the Cup are his only goals. With no time for relationships—except the fractured ones he needs to rebuild with his beautiful daughters—he's finding it increasingly hard to ignore sexy, all-up-in-his-beard Violet Vasquez. And when he finds himself in need of a nanny just as the playoffs are starting, he's faced with a temptation he could so easily get hooked on.

For two lost souls, there's more on the line than just making the best of a bad situation… there might also be a shot at the biggest prize of all: love.
✦ #BlogTour ✦ #Review ✦ M/M Romance ✦ #Giveaway ($50.00 Amazon Gift Card) ✦

USA TODAY
bestselling author Kate Meader brings her signature "steamy sex scenes, colorful characters, and riveting dialogue" (
RT Book Reviews
) to this novella in the Chicago Rebels series, following the general manager of the Rebels as he scores with one of his players off the ice.
Dante Moretti has just landed his dream job: GM of the Chicago Rebels. And screw the haters who think there should be an asterisk next to his name because he's the first out managing executive in pro hockey. He's earned the right to be here and nothing will topple him off that perch—especially not an incredibly inconvenient attraction to his star defenseman, Cade "Alamo" Burnett. Cade has always been careful to keep his own desires on the down low, but his hot Italian boss proves to be a temptation he can't resist. Sure, they both have so much to lose, but no one will ever know...
As Dante and Cade's taboo affair heats up off the ice and their relationship gets more and more intense, they'll have to decide: is love worth risking their careers? Or is this romance destined to be forever benched?
Note: this is a long-ish novella of approximately 40,000 words set in the Chicago Rebels world.
✦ #BlogTour ✦ #Excerpt ✦ #Review ✦ #Giveaway ($25.00 Amazon Gift Card) ✦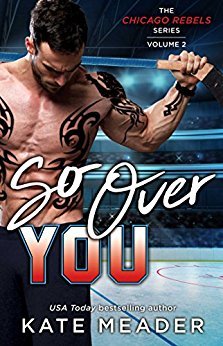 Three estranged sisters struggle to sustain their late father's failing hockey franchise in Kate Meader's sizzling Chicago Rebels series. In this second entry, middle sister Isobel is at a crossroads in her personal and professional lives. But both are about to get a significant boost with the addition of a domineering Russian powerhouse to the Rebels....

Isobel Chase knows hockey. She played NCAA, won Olympic silver, and made it thirty-seven minutes into the new National Women's Hockey League before an injury sidelined her dreams. Those who can't, coach, and a position as a skating consultant to her late father's hockey franchise, the Chicago Rebels, seems like a perfect fit. Until she's assigned her first job: the man who skated into her heart as a teen and relieved her of her pesky virginity. These days, left-winger Vadim Petrov is known as the Czar of Pleasure, a magnet for puck bunnies and the tabloids alike. But back then... let's just say his inability to sink the puck left Isobel frustratingly scoreless.

Vadim has a first name that means "ruler," and it doesn't stop at his birth certificate. He dominates on the ice, the practice rink, and in the backseat of a limo. But a knee injury has produced a bad year, and bad years in the NHL don't go unrewarded. His penance? To be traded to a troubled team where his personal coach is Isobel Chase, the woman who drove him wild years ago when they were hormonal teens. But apparently the feeling was not entirely mutual.

That Vadim might have failed to give Isobel the pleasure that was her right is intolerable, and he plans to make it up to her—one bone-melting orgasm at a time. After all, no player can perfect his game without a helluva lot of practice...