💗 BLOG TOUR / EXCERPT / GUEST POST / REVIEW / GIVEAWAY 💗
From New York Times bestselling author Katy Evans comes a hot romance about two strangers and their race to fall in love.
If someone had bet Nell a million dollars that she would be saying "I do" to a complete stranger on national television, she'd have called them crazy, but with her crushing student loan payments sending her deep into the red, she's out of options. This should be nothing more than a business transaction—until she sets eyes on her groom, and everything changes.
The game is on the instant Luke spots Penelope "Nell" Carpenter. He's out for the money, yes, but getting a little dirty with Nell doesn't sound too bad either. Everyone knows he's not the marrying kind, so it's a good thing it's just for show. God knows he's the worst guy his pretty wife should pick for real.
They have nothing in common, but if they want the grand prize, they'll have to beat out eight other couples. Proving that total opposites attract should be easy enough…as long as they don't fall in love in the process.
✦ #BlogTour ✦ #Excerpt ✦ #GuestPost ✦ #Review
✦ #Giveaway (eBook + $25.00 Amazon Gift Card)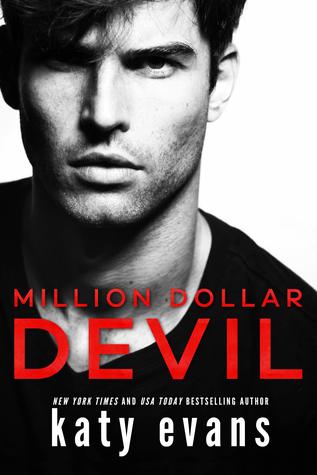 Big-city sophistication meets carnal hunger in this devilish contemporary romance from New York Times and USA Todaybestselling author Katy Evans.
Heir apparent to her father's company, Lizzy Banks needs a man. The perfect man. But when the rich "fundbabies" she usually rubs shoulders with prove impossible to hire, she takes a chance on a raw beast of a man salvaged from the wreckage of a bar brawl.
James Rowan earns a modest income as a YouTube daredevil, but he can't refuse Lizzy's million dollar deal. As she polishes his rough edges, creating a sophisticated gentleman fit for the highest circles of society, not only does she bring out the perfect man—it's like she's making the man of her dreams. How can she resist?
Though Lizzy loves seeing James in his clothes—and out of them—he isn't the kind of man you bring home to Daddy. Her father's disapproval and the pressure of the campaign have her eyeing the straight and narrow, but Lizzy's finding it awfully hard to resist the devil on her shoulder…
✦ #ReleaseBlitz ✦ #Review
A brand new sizzling standalone contemporary romance by New York Times, Wall Street Journal, and USA Today bestselling author Katy Evans.
It was supposed to just be a quick trip to Manhattan.
My best friend was heartbroken. She needed support, and I needed inspiration.
I hoped to love the city. Bustling. Crazy. Inspiring New York.
But I ended up at the airport, heading home in the same condition that I arrived.
In a rut.
Add to all that, missing my flight and losing my laptop—the laptop, where the Best Love Story Ever sat on my hard drive.
Enter Noah Steele. Eerily familiar. Movie star. Heartthrob. Sultry romeo with bedroom eyes.
(But we're not going there.)
He missed his flight too.
Noah is so smoldering, lip-bitingly hot, he's not taken seriously as an actor, and is struggling to launch his career in New York.
He's only ever had superficial girlfriends, so he's having trouble showing true passion in his acting—the same challenge I'm having with this book.
When we met, we didn't know that our connection would bring us the change we'd been craving.
That we'd be the very thing the other needed and didn't know.
Each other's muse.
*This book is a complete standalone and no previous reading is necessary to enjoy.
✦ #BlogTour ✦ #Excerpt ✦ #Review
A brand new contemporary romance from New York Times, Wall Street Journal, and USA Today bestselling author Katy Evans.
It started as a game.
We flirted. We played. Most importantly—we won.
Then I discovered who he was: Gambler. Famous playboy. Silver-eyed player who never plays to lose.
…And my best friend's soon-to-be brother in law, Cullen Carmichael.
He needed a good luck charm, I needed a distraction.
So we made a gamble and set off for Vegas—but pretty soon—I was in too deep.
My heart, soul, and body weren't supposed to be part of the deal.
But somewhere between big wins and long nights, my house of cards started to tumble.
What was this devil with those piercing eyes doing to me?
I'd given up on love, but the wicked, all-in Cullen Carmichael was upping the ante and wouldn't stop until he'd won it all.
*This book contains characters from the Manwhore series but can be read as a complete standalone.
✦ #BlogTour ✦ #Excerpt ✦ #Review ✦

A brand new contemporary romance from New York Times, Wall Street Journal, and USA Today bestselling author Katy Evans.
He's my most delicious secret.
The hot Suit I had a one-night stand with one evening.
I didn't know anything about him, not even his name.
Only that we shared a taxi, and he was staying at the hotel where I worked.
We met in room 1103. Where he commanded not only my body but my soul.
The next day he was gone and I only had a memory of him.
I could still taste his kisses, feel his demanding touch.
I searched for him for months. Daydreaming about him. Wondering if I'd ever find him.
Until the day I find myself staring face to face with his jeweled black eyes again.
He says lets keep it casual, and my heart knows that falling for this workaholic in a three-thousand-dollar suit is off the table.
Because he has a secret. One that's a deal breaker for me.
My Suit has a name.
Ian Ford.
And this is our story.
*This book is connected to Tycoon, but it can also be read as standalone.
✦ #BlogTour ✦ #Excerpt ✦ #Review ✦
A bad boy with something to prove.
A woman with a mission.
The race of their lives.
The love of a lifetime.
I don't think his parents expected him to live up to his name—Racer Tate—but once he felt the adrenaline rush behind the wheel, he was addicted.
He's the fastest, fiercest driver around.
Scouting new talent brings me to his doorstep…
but his smile sends me to my knees.
The sexy, mysterious Racer Tate is not the kind of man a girl like me falls for. He's secretive, reckless, elusive. But his proximity pushes me beyond reason, and his kiss….
This is our last chance to win, and he is our only hope. I'm supposed to watch him—make sure he doesn't get into trouble. But it's an impossible task. And now the one in heart wrenching, toe-curling, soul-crushing trouble is me. Because when your heart belongs to someone, their truths become your own, and their secrets become your salvation…or your curse.
He says he wants me. He says I'm the One. But he also thinks he'll break my heart, one piece at a time until it's gone.
✦ #BlogTour ✦ #Excerpt ✦ #Review ✦
He wasn't always this rich. This hot. This difficult.
Aaric Christos was a guy who protected me. Wanted me. Maybe even loved me.
That man is gone.
In his place is the most powerful real estate tycoon in the city.
He's a cold, ruthless, aggressive businessman.
The only one who can save me and my startup from ruin.
It takes every ounce of courage to put my pride aside and ask for his help.
I didn't expect him to offer it easily.
And he doesn't.
Instead, he vets me harder than he's vetted anyone.
Don't invest in what you don't know, he says.
He's assessing every piece of me, to the point I've never felt so bare.
I yearn for the boy I once knew, whose touch once craved me.
Putting it all on the line will be worth it, I tell myself.
Until I realize—too late—that some risks are not worth taking.