Category:
Kindle Alexander
✦ #ReleaseBlitz ✦ #Review ✦ #Playlist ✦#Giveaway
✦#BadassBikerAlert ✦ M/M Romance ✦
Keyes Dixon's life is challenging enough as a full patch member of the Disciples of Havoc Motorcycle Club but being a gay biker leaves him traveling down one tough road. With an abusive past and his vow to the club cementing his future, he doesn't believe in love and steers clear of commitment. But a midnight ride leads to a chance meeting with a sexy distraction that has him going down quicker than a Harley on ice.
Cocky Assistant District Attorney Alec Pierce lives in the shadow of his politically connected family. A life of privilege doesn't equal a life of love, a fact made obvious at every family gathering. Driven yet lonely, Alec yields to his family's demands for his career path, hoping for the acceptance he craves. Until he meets a gorgeous biker who tips the scales in the favor of truth and he can no longer live a lie.
Can two men from completely different worlds…and sides of the law…find common ground, or will all their desires only wreak Havoc?
While Havoc is a stand-alone with no cliffhanger, the story continues early 2019.
✦ #ReleaseBlitz ✦ #Review ✦ M/M Romance ✦ $2.99 #Sale! ✦ #Giveaway (Michael Kors Purse, Gift Box, Posters & Mickey Pride Ears)
Available for a limited time! Get the complete Nice Guys collection with an additional 30,000 words of bonus material. Haven't met the Nice Guys? Here's your chance.
Double Full:
Up and coming football hero, Colt Michaels, makes a Hail Mary pass one night in the college locker room that results in the hottest, sexiest five days of his young life. However, interference after the play has him hiding his past and burying his future in the bottom of a bottle. While Colt seems to have it all, looks can be deceiving especially when you're trapped so far in a closet that you can't see your way out.
Jace Montgomery single-handily built the largest all-star cheerleading gym in the world, driven by a need to forget a life-altering encounter with a handsome quarterback a decade ago. When he learns some upsetting news about his ex-lover, his heart executes a barrel roll and his carefully placed resolve tumbles down without a mat to absorb the shock. Can his island escape help him to finally let go of the past and move his life forward?
Full Disclosure:
Deputy United States Marshal Mitch Knox apprehends fugitives for a living. His calm, cool, collected attitude and devastatingly handsome good looks earn him a well-deserved bad boy reputation, both in the field and out. While away on an assignment, he blows off some steam at a notorious Dallas nightclub. Solving the case that has plagued him for months takes a sudden backseat to finding out all there is to know about the gorgeous, shy blond sitting alone at the bar.
Texas State Trooper Cody Turner dreams of being a Texas Ranger, and he's moving up the ranks, well on his way to making it happen. But for the next two-weeks, he's on vacation, and his plans include relaxing and helping out on his family's farm. The last distraction he needs is a tatted-up temptation who walks into the bar and steals his baseball cap.
As Mitch's case gains nationwide attention, how will he convince the sexy state trooper that giving him a chance won't jeopardize his life's plan…especially when the evil he's tracking brings the hate directly to his doorstep, threatening more than just their careers?
Full Domain:
Honor, integrity, and loyalty are how Deputy US Marshal Kreed Sinacola lives his life. A former SEAL now employed by the Special Operations Group of the US Marshal Service, Kreed spends most of his life working covert operations…and avoiding relationships. But his boundaries blur and his convictions are put to the test when he finally comes face-to-face with the hot computer geek he's been partnered with.
Aaron Stuart strives for one thing: justice. Young and full of idealism, his highly sought after computer skills land him a position with the National Security Agency. Aaron's biggest hazard at his job is cramped fingers, but all that changes when he's drawn into the middle of a dangerous federal investigation. And his attraction to his new inked up, dark-haired partner provides another kind of threat altogether. While Aaron tries desperately to place a firewall around his heart and fight his developing feelings, one misstep on his part could ultimately destroy him.
The solution isn't as easy as solving the case, which is treacherous enough as it is. But the growing sexual attraction between them threatens to derail more than just Kreed's personal convictions as he quickly learns temptation and matters of the heart rarely fit easily into the rules he's lived by. Will Kreed be able to convince Aaron to open his heart and face the fact that sometimes the answers aren't always hidden in code?
✦ #BlogTour ✦ #Review ✦ M/M Romance ✦ #Giveaway (Matt Schiermeier Art Signed Original, Tote & Tumbler) ✦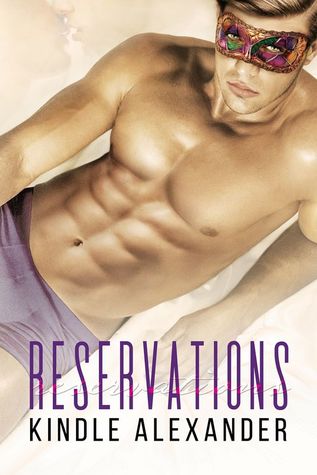 Wildly successful entrepreneur, Thane Walker is stubbornly set in his ways and adamantly resists the shackles of commitment. He's seen enough unhappy endings to learn the best way to play is by keeping his men on the payroll.
Levi Silva's dream of graduating from one of the country's top medical schools is in his grasp, until news from home changes everything. Now, he's raising his two teenage brothers and trying to keep everyone's head above water, emotionally and financially.
When Levi's new job puts him in Thane's path, their chemistry explodes, but their fear of being involved in relationships keeps them apart. Unfortunately, despite the intense desire drawing them together, neither man can move forward until they get past their own…Reservations.