King's Reign (Sydney Storm MC, #6) by Nina Levine
Title: King's Reign
Series: Sydney Storm MC, #6
Author: Nina Levine
Genres: MC Romance, Romantic Suspense
Release Date: May 30, 2018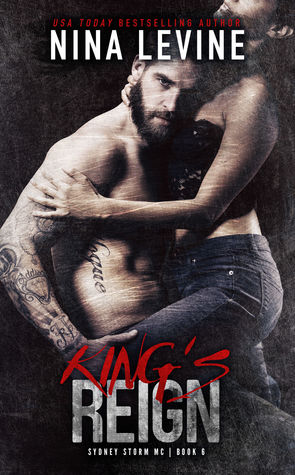 The epic conclusion to King's story.

I was chasing pure darkness.
Succumbing to the needs I'd forced to the far edges of my soul.
Running like a madman towards evil.
Then I found her.
She breathed life into me when I hadn't thought there was any life beyond what I knew.
She gave me hope after I'd forgotten what it was.
She helped quiet the demons raging deep inside me.
Now I will lay myself bare for her.
I will bleed for her.
I will love her madly, deeply, passionately, completely.

This is the conclusion to King's story. All the ugly and all the beautiful, by the end of this duet you will come to understand the man behind the club.

King's story is told over two books - King's Wrath & King's Reign.

 

King's Reign (Sydney Storm MC, #6) by Nina Levine

Rosa's rating: 5 of 5 iScream Cones

"He just said what he wanted, regardless of how bossy or filthy it was."

Waiting for King to find his Queen was well worth the wait...sigh. ❤ She is perfection, exactly what he needed to calm his demons. She didn't just tolerate his broody bad-tempered ass, she couldn't get enough of it. "Who knew bossy men who liked filthy words would get me so damn hot?"

I can't stop smiling. I'm so happy with this story. King and his woman are like fire and ice. He makes her melt and she makes him burn. His caveman antics don't intimidate her, she gives it right back and that just turns him on even more. Get ready to turn up the A/C because these two together are #HOT! 🔥

And then, if that's not enough goodness to keep you turning the pages, the club business will keep you on the edge of losing your mind. Trying to keep up with who the bad guys are and anticipating what chaos will erupt without notice makes King's Reign a high octane read that is guaranteed to be explosive. I enjoyed every second and was tempted to start reading slower towards the end to delay reaching it, but I couldn't resist. And don't worry, the author stayed true to form. She left me with a zinger at the end to make me crazy with excitement for her next book. The line forms here...




Dreamer.
Coffee Lover.
Gypsy at heart.

USA Today Bestselling author who writes about alpha men & the women they love.

USA Today Bestselling Author Nina Levine is an Aussie author who writes alphas with a side of dirty and sassy women who don't hand their hearts over easily.

When she isn't creating with words, she loves to create with paint and paper. Often though, she can be found curled up with a good book and some chocolate.

Sign up to Nina's newsletter for alerts when new alphas are ready for you