Legend (Arizona Vengeance, #3) by Sawyer Bennett
Title: Legend
Series: Arizona Vengeance, #3
Author: Sawyer Bennett
Genre: Sports Romance
Release Date: February 5, 2019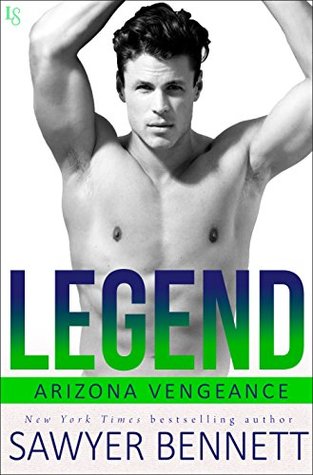 The Arizona Vengeance is hockey's hottest new team. But hockey's hottest goalie is learning that even the best players sometimes need an assist.

Everything is clicking for the Vengeance. We may be new, but we're well on our way to winning the championship, and I'm having the time of my life headlining the sports media as the hottest goalie—hell, player—ever. I for one am going to live up to my name . . . because I am Legend Bay.

Dragging my ass home from the gym, I'm blinded by some gaudy, glowing holiday lights. As usual, my hot-as-hell neighbor Pepper Nantais has gone way over the top. But just as I'm about to tell her off, something else catches my eye . . . Seems like Santa left me a present, and not one I was expecting.

As life takes an unexpected turn, I realize that there's much more to Pepper than meets the eye. Sure, she's gorgeous. And exasperating. And her taste in decorating may be a bit . . . unique.

But beneath her carefree demeanor is a fierce determination and a heart of gold. And before I know it I've fallen for her. Hard . . .

Pepper is exactly the woman I never knew I needed.
Legend (Arizona Vengeance, #3) by Sawyer Bennett

Rosa's rating: 5 of 5 iScream Cones

"There's no way he'd ever be interested in someone like me, so I poked the bear, so to speak, just to have some of his attention."

I've really been looking forward to this installment of the Arizona Vengeance series after meeting Legend's next door neighbor Piper in a previous book. She was purposely aggravating him by putting pink flamingo yard ornaments out to get a rise out of him. It never fails to set him off and she likes the attention, even if it is negative. Everyone else loves her and she's the life of the party. They can't understand why she gets under his skin so much. Hmmm… I didn't have to strain my brain too much to guess that he was fighting an attraction to her and that's why I couldn't wait to get my hands on Legend as soon as possible.

Piper can't deny that "He's built like a Greek god with rippling muscles over a strong stature." She took notice right away and at every opportunity thereafter. She assumed that she was nothing more than an annoying neighbor to him, but when he came to her for help she could tell that he actually respected her opinion. When he listened to her and followed some of her suggestions she found herself hoping for more. Surely they could at least be friends, right?

While he might not ever come to appreciate her flair for bright colors and jaw-dropping decor it does kind of become tolerable when he gets to know her better. When he looks deeper he sees kindness and genuine caring for others. Which is a very good thing because he's in desperate need of assistance. She's the last person he'd ever thought would be there for him, especially after all of his yelling and him reporting her to their HOA. But, apparently, she's a bigger person than him because she didn't hesitate.

I can't give you any details, but I can tell you to expect a surprise twist. The author really pulled out the stops on this one and gave me more than I bargained for. I was expecting explosive chemistry, which I got, but it's even better than that. 🤐
Since the release of her debut contemporary romance novel, Off Sides, in January 2013, Sawyer Bennett has released multiple books, many of which have appeared on the New York Times, USA Today and Wall Street Journal bestseller lists.

A reformed trial lawyer from North Carolina, Sawyer uses real life experience to create relatable, sexy stories that appeal to a wide array of readers. From new adult to erotic contemporary romance, Sawyer writes something for just about everyone.

Sawyer likes her Bloody Marys strong, her martinis dirty, and her heroes a combination of the two. When not bringing fictional romance to life, Sawyer is a chauffeur, stylist, chef, maid, and personal assistant to a very active daughter, as well as full-time servant to her adorably naughty dogs. She believes in the good of others, and that a bad day can be cured with a great work-out, cake, or even better, both.

Sawyer also writes general and women's fiction under the pen name S. Bennett and sweet romance under the name Juliette Poe.