Long Shot (Hoops, #1) by Kennedy Ryan
Title: Long Shot
Author: Kennedy Ryan
Genre: Basketball Romance
Release Date: March 22, 2018
"This story was brutal truth wrapped in hope, courage and unflinching love. It's a must read. It's a STOP WHAT YOU'RE DOING AND READ THIS NOW kind of book. Don't hold your breath, this story will steal it from you." - J. Sterling, NYT Bestselling Author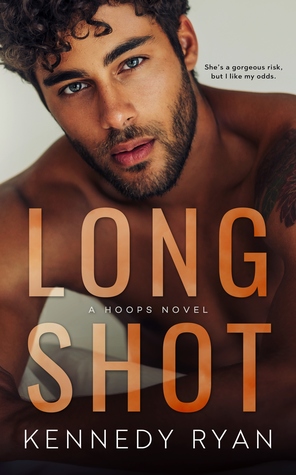 A Standalone FORBIDDEN LOVE SET IN THE EXPLOSIVE WORLD OF THE NBA...

Think you know what it's like being a baller's girl?
You don't.
My fairy tale is upside down.
A happily never after.
I kissed the prince and he turned into a fraud.
I was a fool, and his love - fool's gold.

Now there's a new player in the game, August West. 
One of the NBA's brightest stars.
Fine. Forbidden. 
He wants me. I want him.
But my past, my fraudulent prince, just won't let me go.
Read the ENTIRE first chapter HERE!
"Iris?" August's frown, the concern on his face, in his voice, remind me where I am. "Baby, you okay?"

            I blink down at him dumbly, swallowing my tears, eating my memories whole and digesting a nightmare from long ago. I nod, my lips a cold, wobbly curve.

            "Kiss me," he whispers, his eyes so tender, so intent.

I remember a magical night under the stars, under a streetlight on the eve of greatness. A night filled with laughter and confidences, pregnant with promise. And I see him so clearly, my prince, asking for a kiss.

And I do.

I kiss him like the world might end tonight because I'll never take this for granted. Not his kindness, when I've known cruelty all too well. Not his tenderness, when I've been handled roughly in the past. Not his love, when I've been possessed and owned and mistreated.

He thaws me with his kiss, my prince, and I melt into him. We're chest to chest, with August's number crushed between us. I take his cock in my hand, aligning our bodies, and two become one in a carnal slide of flesh. I anchor myself by my elbows hooked around his neck, and we kiss until I'm dizzy and our breaths tangle in a cloud of bliss. Under the jersey, his palm spans my back, digging into the naked flesh as our hips lock and roll and grind. My body clenches around him, and we pray, we curse, we moan, we mate like our bodies were made for this moment.

Ours is a love that reimagines—that peels back the sky at high noon searching for the stars, collecting them like shells in a bucket. We bathe in stardust, drink from the Milky Way, and dance on the moon. We pierce the firmament, peer into infinity, and tread on time and space. There is no before. There is no after. Now gives birth to forever. This moment may die, but this love never will. Time is not a line. It's a circle, and we, August and Iris, we stand at the center.
Long Shot (Hoops, #1) by Kennedy Ryan

Rosa's rating: 5+ of 5 iScream Cones


"Yours to keep and yours to share."


It's hard to write a review for a book that's left your mind blown and you're still floating after turning the last page. Saying that Long Shot deserves 5 stars is an understatement, it needs to be in movie theaters. The author is a word wizard and she put a spell on me, keeping me entranced and under her power, dependent upon every word she wrote for my survival. I literally could not put my Kindle down, this story consumed me. It put so many thoughts in my head and pulled so many emotions out of me that I was a mess and not fit company for anyone to be around. It's a good thing I started reading on the weekend and could hide out in my reading cave.

Since the author chose only to share the name of the sexy baller, #TeamAugust, and not the female character in her synopsis, I'm not going to go there either. But I will share that she's, "A woman who can talk sports and talk trash? A fucking sparkling unicorn. She gives as good as she gets, this one." I can tell you that the story is not short and the details are very fleshed out.You will learn everything you need to, and sometimes more than you are comfortable with. It will take you places you might not have been before and touch emotions that haven't been used in a while. It will make you have opinions about what you think the characters should do, and possibly lead you to make judgments on the choices they made. You will mentally advise, curse, threaten, cry and beg to no avail.

I enjoyed learning about basketball and the behind the scenes details that go into a pro career. I also enjoyed many of the support characters and I'm excited that there's a Hoops series to look forward to so I can hopefully spend more time with them in the future. I said 'many', rather than 'all' because there's one character that set my blood to boiling and enjoyment was at the furthest end of the spectrum as far as he was concerned. I was booing him and wishing I had one of those huge spongy middle-fingers to wave at him during the virtual basketball games that I attended.

And while I'm at it, I would love to hold up a huge sign that says Kennedy Ryan Rocks! from the stands and have it captured on the jumbotron for all the world to see. I don't know where her next Hoops installment will take me, but I can't wait to go there. The line forms here...
Kennedy Ryan is a Southern girl gone Southern California. A Top 100 Amazon Bestseller, Kennedy writes romance about remarkable women who find a way to thrive even in tough times, the love they find, and the men who cherish them.

She is a wife to her lifetime lover and mother to an extraordinary son. She has always leveraged her journalism background to write for charity and non-profit organizations, but enjoys writing to raise Autism awareness most. A contributor for Modern Mom Magazine, Kennedy's writings have appeared in Chicken Soup for the Soul, USA Today and many others. The founder and executive director of a foundation serving Georgia families living with Autism, Kennedy has appeared on Headline News, Montel Williams, NPR and other outlets as a voice for families living with autism.
★✩★ $100 Winner's Choice Gift Card #GIVEAWAY! ★✩★