Luck of the Devil (Ravens Ruin MC, #2) by Marie James
Title: Luck of the Devil (Ravens Ruin MC, #2) by 
Series: Ravens Ruin MC, #2
Author: Marie James
Cover Design: Essen-tial Design
Genre: MC Romance
Release Date: January 13, 2019
I'm good enough to protect her.

I'm good enough to die for her.

But, I'm not good enough to touch her?

I may be the Vice President of the Ravens Ruin MC, but her brother, the President, has given all of us orders that she's off-limits.

It's for the best, really. 

The demons in my past love to play with a pretty little girl like her.
"My hands are trembling with rage and the urge to prove to her just exactly what my demons feed on."

I met the characters while reading Sins of the Father and was very intrigued to learn the VP's secrets. I knew he was attracted to the club president's baby sister and that forbidden aspect was a delicious treat to look forward to.

I already knew that he, along with her brothers, believed that no man was good enough for her. She was especially off-limits to the club members. But tell that to her heart. It had been beating for him since she was a young girl and no other man did it for her. How many times can she suffer rejection before she finally accepts it and moves on?

He's badass and doesn't bat an eye at any of the dirty deeds he's had to perform as part of his club duties. The only thing he fears is himself. He's got some demons rattling his cage that keep him from trusting himself with a woman, especially her. Are you as curious as I was to learn what he's hiding?

Of course, I've been rooting for this couple ever since I got my first clue they had the hots for each other. I sure wasn't expecting to have to work so hard that I strained my mental matchmaking muscle. That stubborn, sexy biker is determined to follow his head instead of his heart.

Confession, it was the 'girl-time' that I enjoyed the most in this story. The women are fearless and hilarious when they get together. I would so love to join that sisterhood. As with the previous stories, the author teased me with a glimpse into future possibilities that pushed my imagination into working overtime. I know I'm not the only one, right?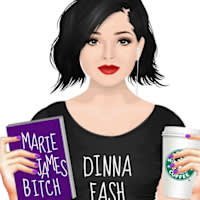 Marie James is a full-time working mother of two amazing little boys and wife of almost 13 years. She enjoys reading in her spare time, and diet coke is always near. Central Texas is where Marie calls home and has lived most of her life. With 13 published books under her belt, she has no desire to stop writing anytime soon and has dozens of book ideas to keep her busy.