Macon by Marie James
Today we have the blog tour for Macon by Marie James! Check it out and grab your copy today!

Title: Macon
Author: Marie James
Genre: Contemporary Romance
Release Date: September 14, 2017


Tossing a middle finger to Macon, Georgia as I made my way to Nashville was always the dream. Sing country music, go on tour, top the charts—with my popularity growing every day, I was on my way.

But then a gust of wind blew up your skirt, and those white cotton panties had me hooked. I didn't know your name, and you turned down every attempt I tried to throw your way. But I knew you were different, even though you told me I was the same.

"Friends" is what you offered, and I played by your rules, but, Adelaide Hatfield, you have to know, from that day, it was only you.

I just hope I can make you see how much you mean to me before we both drown in the sorrow of what heartbreak can truly be.
Macon by Marie James
Chantal's rating: 5 of 5 iScream Cones
Marie James captured my attention from the first chapter until the very last sentence. This book is about college, the country music scene, and friends who want to more but things are preventing it from happening. It's told in a dual POV, which is a great way to see both sides of Adelaide and Axton's story.
Adelaide is dedicated college student, who also is the one her parents are pushing to find the right man to marry. She has a lot of pressure on her right now and she wants to find her way through it. She comes off shy, but once you get to know her she is extremely full of banter and sometimes goofy.
Axton is a local Macon country singer. He is known throughout the town for his swoon-worthy voice and his way with the ladies. Axton also "attends" college, but hasn't been there in a long time. He was more into pursuing his singing career than school.
Adelaide meets Axton when she gets a flat on the side of the ride. She immediately recognizes him, because she is a fan of his voice. He sees a beautiful woman and doesn't know why he is so drawn to her. They have a few run ins at places that Axton is singing at. Adelaide can't help but feel an attraction to him, especially when he is singing songs directly to her. Axton sees an opening and tries to go for it, only to be put into the friend zone. Adelaide sees the potential Axton has to be a great and very popular country singer. Axton just wants to be with her, no matter what.
Can Adelaide show Axton that she really does love him? Will Axton do what she is worried about when he does leave for a tour? Do they find there way back to each other or will it always be just friends for them?
I loved this book for so many reasons, the country music references, the friends who want to be more, and the secondary characters who played a big role throughout the whole book. I highly recommend this book to anyone who appreciates music or looking for an epic love story.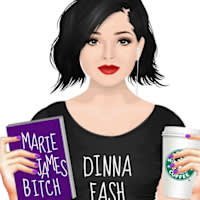 Marie James is a full-time, working mother of two boys and wife of 13 years. She's spent almost her entire lifetime living in central Texas, with only short stays in South Carolina, Alabama, and Florida. She's always wanted to write novels and currently has 16 titles under her belt. Her passions include reading everything under the sun and plotting out new books to write in the future.

Blog Tour Schedule:
September 15th
Seraphim Book Reviews Review
The Red Hatter Book Blog Review
Torie's Book Obsession Excerpt
September 16th
Book Boyfriend Reviews Review
Night and Day Book blog Excerpt
Smut Lovers Wonderland Excerpt
September 17th
Books,Dreams,Life Dreamcast
Feel the Book Excerpt
September 18th
FOUR CHICKS FLIPPING PAGES Excerpt
Adventures in Writing Excerpt
September 19th
Words We Love By Excerpt
September 20th
Two Unruly Girls Review
MI Bookshelf Review
iScream Books Blog Review
September 21st
Lauren's Crammed Bookshelf Review
Sweet Red Reads Review
Septemeber 22nd
Book Haven Book Blog Review
September 23rd
Brittany's Book Blog Playlist
Those Crazy Book Chicks Excerpt
September 24th
Evermore Books Excerpt
Evermore Books Excerpt
September 25th
Book Junkiez Excerpt
Lover of Big Books Cannot Lie Review
September 26th
Pardon My Blurb Review
Beneath The Covers Blog Excerpt
Geri Slavinsky Review
September 27th
Ramblings From This Chick Excerpt
Fictional Rendezvous Book Blog Excerpt
Jax's Book Magic Excerpt
September 28th
G & T's Indie Café Excerpt
Fictional Rendezvous Book Blog Excerpt
a geordielass honest blog on reviews Review
Short and Sassy Book Blurbs Review