Maybe Don't Wanna (Simple Man, #2) by Lani Lynn Vale
Title: Maybe Don't Wanna
Series: Simple Man, #2
Author: Lani Lynn Vale
Genre: Romantic Suspense
Release Date: May 4, 2018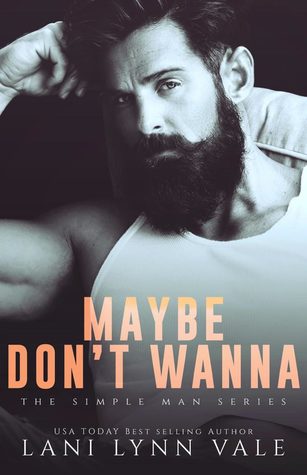 Peter Parker Penn.

Unlike the superhero his mother named him after, Parker is no good guy.

In fact, if there's a picture in the dictionary under anti-hero, it's his.

Parker's spent his life trying to get back on the right side of the tracks, but each step he takes forward, he takes two more steps back.

To save one, he hurts others. To make this good, he turns that bad.

For appearances' sake, he plays the part. He does what people expect him to do-mostly. 

And at the end of each day, he goes back to his lonely apartment and wishes he was a different person. One who could fix the things he's broken.

Then Kayla Nash forces her way into his life, and the world as he knows it is irrevocably changed.

Everything he thinks he has right is wrong. And everything he thinks is wrong is oh, so right.

One thing leads to another, and suddenly he's growing a conscience, and trying to prove to her that he's as bad as everybody says he is.

Yet she won't listen.

She's convinced that she can save him.

Little does she know, Parker isn't worth saving, and never will be.

 
Kinda Don't Care (Simple Man, #1) by Lani Lynn Vale

Rosa's rating: 5 of 5 iScream Cones


"He was everything that I shouldn't want, and the one thing that I really needed all rolled into a perfect ball of badass."


I was excited to see that Lani was starting this new Simple Man series, and even more excited once I started reading and realized I'd already met Rafe in the Hail Raisers series. He was all broody and distant and I was really hoping he would get a book of his own so I could find out what his story was, and he did!


I really love how the author intertwines her characters in multiple series. It feels like a family reunion when I get to attend a party at the Dixie Warden clubhouse or when Freebirds business crosses over into another series. Rafe has several jobs going at once, including being a Hail wrecker driver and some side work with Freebirds when he's not being commissioned for the top-secret stuff. He's got a lot on his plate and he likes it that way. Being busy keeps him focused on things other than...her.  He's made a point to avoid her for years, but it's not working anymore.

Janie is too cute to handle. She's sweet and funny and smarter than anyone realizes. So smart that she doesn't even bother trying to convince her father to let her work with the Freebird cases, she just works her magic behind the scenes. She's also managed to keep her feelings for Rafe hidden, which wasn't so difficult considering he's been avoiding her for years. She's taken to spying on him from afar to get her fix.

What fun it was for me to be inside the heads of both characters, knowing how they felt about each other when neither of them knew themselves. Of course, I was doing some serious mental matchmaking. Yeah, I had my work cut out for me considering she was getting married and he had a fiance', right?

Throw in some bad guys, some pampered pets and some crazy support characters with a neverending supply of witty banter and you can expect hours of non-stop entertainment. I've come to realize that's what I can expect with every Lani Lynn Vale book, including some call-the-fire-department-hot-sexy-time to seal the deal. I'm so thrilled that this is just the beginning of another amazing series and I have more to look forward to. The line forms here...