Mend by Chelle Bliss
Title: Mend
Author: Chelle Bliss
Genres: New Adult, Contemporary Romance
Release Date: January 21, 2018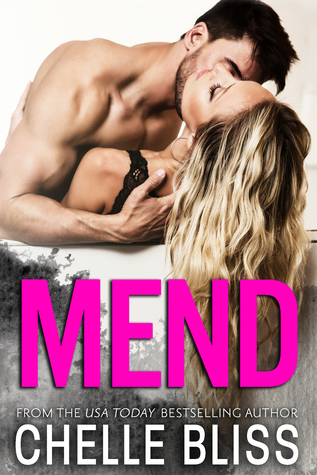 From USA Today bestselling author Chelle Bliss comes a feel-good, sexy second-chance STANDALONE romance.

Six years ago, the only girl I ever loved moved away.
She said she'd come back to me.
She promised she'd write.
She swore she'd always be mine, but Evie Bailey lied.

Now, Evie's back, and this time, I'm not letting her go without a fight.

Before senior year, I was forced to move away, leaving behind the only boy I ever loved.
He said he'd love me forever.
He promised nothing would tear us apart.
He swore he'd wait for me, but Jack Nelson lied.

Now, Jack wants to make me his again, but he may never be able to forgive my sins.
SIGNED COPY - chellebliss.com/mend-signed
Mend by Chelle Bliss

Tricia's rating: 5 of 5 iScream Cones

Young Love...
Misunderstandings...
Such Heartbreak...
Such Love...
Such Passion...
Second chance Romance...Ohh I just love these types of books!!! Soo much feels this book is going to give you...Holy crap get ready for your heart to be put on the Mend.

Jack and Evie are childhood friends that fall into Love with each other. Evie's daddy does not like this relationship and ends up moving the family far away. Making Evie say her goodbyes quickly to her Love-Jack. They make promises to each other that they will keep in touch, they vow they will be together again.

But six years went by, they didn't keep their promises. Something happened...each have their own thoughts as to what went down. But they were mistaken. Six years is when they meet up again and hopefully now they can Mend what happened over the years of being apart.

I gave Mend 5 Heartfelt iScream Cones!! I am such a huge Chelle Bliss fan and again this read will definitely pull at those heartstrings. Such a wonderful love story to read about!!
Chelle Bliss is the USA Today bestselling author of the Men of Inked and ALFA P.I. series. She hails from the Midwest, but currently lives near the beach even though she hates sand. She's a full-time writer, time-waster extraordinaire, social media addict, coffee fiend, and ex high school history teacher. She loves spending time with her two cats, alpha boyfriend, and chatting with readers.