Misadventures of a City Girl (Misadventures, #1) by Meredith Wild & Chelle Bliss
Title:  Misadventures of a City Girl
Series: Misadventures, #1
Authors: Meredith Wild & Chelle Bliss
Genre: Contemporary Romance 
Release Date: September 12, 2017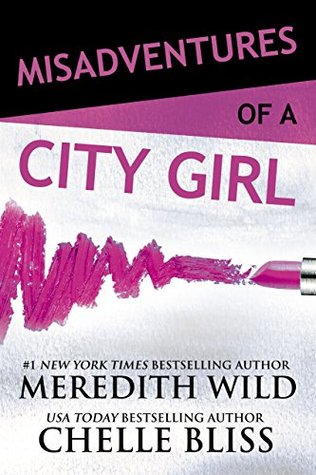 Fresh off a divorce from a Hollywood hotshot, Madison Atwood needs an escape. With the paparazzi fresh on her heels and her love life splashed on every tabloid, she runs away to a swanky retreat in Northern California. Avalon Springs is the mountainside haven she needs to find herself again.

Luke Dawson lives off the grid, preferring solitude to society. When he finds a beautiful woman soaking in the hot springs on his property, he can't stop himself from watching her. She captures his attention, but she's just a city girl—a beautiful distraction disturbing the peace he's settled here to find.

When Madison discovers Luke's secluded cabin, he can't turn her away again. They make no promises. Madison needs to feel wanted again, and Luke misses the touch of a woman. But when mother nature has other plans, they're forced to spend more than a night of passion together. Can Luke say goodbye to the only woman who's made him feel anything in years, and can Madison leave behind the man who brought her back to life?
Misadventures of a City Girl (Misadventures, #1)
by Meredith Wild & Chelle Bliss Jamie's rating: 5 of 5 iScream Cones

What do you get when Chelle Bliss and Meredith Wild write a book together? You get a fun, hot read called Misadventures of a City Girl. I love when two amazing authors get together and give us such an amazing story.
Love both of these authors and am so thankful I got opportunity to get my hands on this book.

Luke was finding living life after leaving the Navy Seals was hard and had a difficult time being around others. Living alone up in the mountains was his escape and it worked for him until he came along a very naked and beautiful Madison taking a dip in the local springs.
Madison Atwood's life didn't work out as planned, her husband publicly humiliating her after supporting him while he built his career. She heads to a mountain retreat to getaway from it all and help herself heal.

Loved Luke and Madison and how they helped heal each other, not that it was
easy because nothing ever is.
The only disappointment from this book was that it ended so fast. I can't wait to read some more of the Misadventure books. If you're looking for a sweet and sexy read the this is the book for you.
Meredith Wild is a #1 New York Times, USA Today, and international bestselling author of romance. Living on Florida's Gulf Coast with her husband and three children, she refers to herself as a techie, whiskey-appreciator, and hopeless romantic. She has been featured on CBS This Morning, The Today Show, the New York Times, The Hollywood Reporter, Publishers Weekly, and The Examiner. When she isn't living in the fantasy world of her characters, she can usually be found at:

USA Today bestselling author Chelle Bliss currently lives in a small town near the Gulf of Mexico. She's a full-time writer, time-waster extraordinaire, social media addict, and coffee fiend. She's written over ten books and has two series available. She loves spending her free time with her boyfriend, 2 cats, and her hamster.  Before becoming a writer, Chelle taught high school history for over ten years. She holds a master's degree in Instructional Technology and a bachelor's in History. Although history is her first love, writing has become her dream job and she can't imagine doing anything else.