Mogul by Katy Evans
Title: Mogul
Series: #Standalone, connected to Tycoon 
Author: Katy Evans
Genre: Contemporary Romance
Release Date: May 31, 2018
A brand new contemporary romance from New York Times, Wall Street Journal, and USA Today bestselling author Katy Evans is AVAILABLE NOW!

He's my most delicious secret.

The hot Suit I had a one-night stand with one evening.

I didn't know anything about him, not even his name.

Only that we shared a taxi, and he was staying at the hotel where I worked.

We met in room 301. Where he commanded not only my body but my soul.

The next day he was gone and I only had a memory of him.

I could still taste his kisses, feel his demanding touch.

I searched for him for months. Daydreaming about him. Wondering if I'd ever find him.

Until the day I find myself staring face to face with his jeweled black eyes again.

He says lets keep it casual, and my heart knows that falling for this workaholic in a three-thousand-dollar suit is off the table.

Because he has a secret. One that's a deal breaker for me.

My Suit has a name.

Ian Ford.

And this is our story.
Excerpt from Mogul
by Katy Evans © 2018
My eyes lock on a third figure sitting with them. As I near, the man glances my way before quickly shifting his gaze. I continue to stare at him as I approach, and it doesn't take long for his gaze to return to me.

His large figure rises to full height as he stands to greet me, and I feel a bolt of electricity hit me in the chest as familiar eyes stare back at me.
He's tall. Dark-haired. Gorgeous. With deep, thick-lashed eyes you want to sink into. And lips to suck on like they're all that exists between you and heaven. I stop walking, stop breathing, because . . .

he

is here.
A moment passes and Bryn seems to notice my shock.
But shock doesn't come close to it.
Because never in my whole life has my heart leapt so far and fast. It feels as if it's ripping out of my chest. I can barely force my legs to move for fear of hearing my knees knock together. I struggle for air, but it feels like someone cut off my windpipe connecting my nose and lungs.
He wears a white dress shirt and black slacks, and his face is chiseled and brooding. The real shock lies in the intensity brewing in his dark eyes as they stay locked on mine. My heart speeds up as I hold his gaze. The city bustles around us. Making eye contact is not something I do often, living in a city of millions, but I can't take my eyes off him.
The memory of having him inside me returns with a vengeance.
Bryn begins to introduce us. "Um. Ian, this is—"
"Sara. We've met," Hot and Dirty Workaholic interrupts with a

stiff smile.
Our eyes meet, and for a moment it feels like nothing else exists.
His name is Ian.
Fucking Ian, with his serious, handsome face and shiny, black hair. He's as lit as I remember. Straight out of a

Suits

episode, and I am dying.
Mogul by Katy Evans

Tricia's rating: 5 of 5 iScream Cones

Well Hellooo Ian Ford…aren't you just Mr. Hottie McHottie!!!

Geeze I picked up Mogul last night and I lost some serious hours of sleep. I did not want to put it down!! And then this morning I was right back at it. Katy Evans your men are soo delicious and soo irresistible that life stands still and I can't get anything done until I get to the end of the book!! : )

Mogul is about Sara, she is a concierge at a trendy four-star hotel that caters mostly to businessmen. She picked this job up due to needing the extra money when she couldn't find a decent roommate to help with paying her rent. She has had a hell of a time with lazy ass, late paying slobs. So she definitely needed some help so she could keep a roof over her head.

And this is how she meets Mr. McHottie-Ian Ford. Well actually she has no idea what his name is at first. She happens to have a one night stand with him, didn't even get his name but he ends up staying at the hotel she works at. Ohhh and he loves to have her come up and attend to his needs, I mean really, that is her job right??? lol Well Sara ends up loosing her job and Mr. Ford has actually become smitten by this concierge. Which actually shocks Ian due to a shitty marriage he has just gone through. But he has to find this girl after she got fired. He wants her and he doesn't like letting go of what he wants!!!

I gave Mogul 5 iScream "Love me some Katy Evans men" Cones!! Goodness this book was a real page turner and full of Hawt loven!! Make sure you go one click on release day and find out if Mr. McHottie finds his concierge and see if she will still cater to his needs?? lol

*This book is connected to Tycoon, but it can also be read as standalone.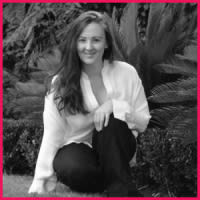 Katy Evans is a New York Times, USA Today, and Wall Street Journal bestselling author. Her debut REAL shot to the top of the bestselling lists in 2013 and since then 9 of her titles have been New York Times bestsellers. Her books have been translated into nearly a dozen languages across the world.
Hits: 48