Muse (Manhattan, #3) by Katy Evans
Title: Muse
Series: Manhattan, #3
Author: Katy Evans
Genre: Contemporary Romance
Release Date: September 14, 2018
A brand new sizzling standalone contemporary romance by New York Times, Wall Street Journal, and USA Today bestselling author Katy Evans.

It was supposed to just be a quick trip to Manhattan.

My best friend was heartbroken. She needed support, and I needed inspiration.

I hoped to love the city. Bustling. Crazy. Inspiring New York.

But I ended up at the airport, heading home in the same condition that I arrived.

In a rut.

Add to all that, missing my flight and losing my laptop—the laptop, where the Best Love Story Ever sat on my hard drive.

Enter Noah Steele. Eerily familiar. Movie star. Heartthrob. Sultry romeo with bedroom eyes.

(But we're not going there.)

He missed his flight too.

Noah is so smoldering, lip-bitingly hot, he's not taken seriously as an actor, and is struggling to launch his career in New York.

He's only ever had superficial girlfriends, so he's having trouble showing true passion in his acting—the same challenge I'm having with this book.

When we met, we didn't know that our connection would bring us the change we'd been craving.

That we'd be the very thing the other needed and didn't know.

Each other's muse.

*This book is a complete standalone and no previous reading is necessary to enjoy.
Muse (Manhattan, #3) by Katy Evans

Tricia's rating: 5 of 5 iScream Cones

Yaaassss Katy, another 5 fan-damn-tastic Star read!!!

Muse was soo much fun, I laughed and I SWOONED Hard over these two!!

"I missed my flight!

She is an author and didn't hear the flight change, so she missed her flight to Austin.

She is standing at the podium and here comes a man charging toward the doors, "Hold the Plane!" Like that will ever happen..haha

He is a movie star and showed up late for his flight, sooo yeah, he missed his flight to L.A..

Ohh y'all, what a perfect scenario for a love story!!! At first, of course they are both upset about missing their flights. They end up sitting down beside each other. Drowning in their sorrows. They have to hang around at the airport and wait for the next flights, which happens to be hours away. They start chit chatting, end up going to the bar and have a few drinks, which in turn, they start having a very sexy and very flirty banter. Hell yesss, my fav!!! They come up with a fun game they can play while they are waiting on their flights. They decide that the winner gets to grant one wish. Of course each have fun and dirty things in mind. haha

Okay...I can't tell you any more, lol, you have to pick up Muse on release day and find out who won? What wish was granted? You have to read about all the craziness that can go down when your stuck in an airport and of course you have to find out if they end up flying to the same destination?!!

I just finished reading and as I am writing my review, I still have my swoony smile on my face thinking, I need to re-read again!! haha Thank you for another awesome read Katy Evans!!

** MUSE is a complete standalone, no previous reading is necessary to enjoy.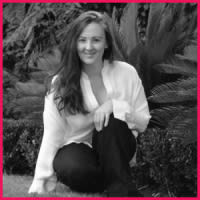 Katy Evans is a New York Times, USA Today, and Wall Street Journal bestselling author. Her debut REAL shot to the top of the bestselling lists in 2013 and since then 9 of her titles have been New York Times bestsellers. Her books have been translated into nearly a dozen languages across the world.