Pearson (Four Fathers, #3) by K. Webster
Title: Pearson
Series: Four Fathers, #3
Author: K. Webster
Genres: Adult, Contemporary Romance, A Taboo Treat
Release Date: April 16, 2018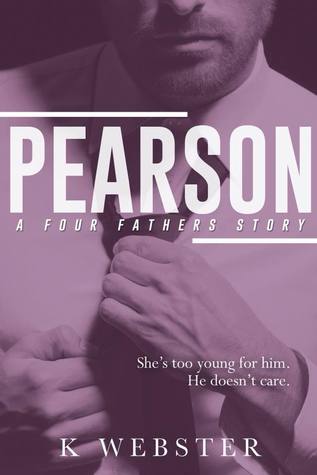 I am selfish. Spoiled. A single father.
I do what I want because I can.
One of my four sons is dating the hot, young little neighbor…
Too bad it won't last long.
When I want something, I take it—even if it means taking from my son.
My name is Eric Pearson.
I am an unapologetic, egotistical, domineering man.
People may not like me, but it doesn't stop them from wanting me.
Pearson (Four Fathers, #3) by K. Webster

Tricia's rating: 5 of 5 iScream Cones

Sooo Pearson by K. Webster was my next read in the Four Fathers series and boy howdy was this book smoken HAWT as well!!! I definitely had to turn that air conditioner down while reading Pearson...goodnesss...lol He is one hot single daddy!!!

K. Webster is always a one clicker for me!!! I can always expect a Taboo, Hawt, Dark little read from her. She is the bomb dot com on writing SMUT!!! Just love her...lol I CAN NOT GET ENOUGH!!

Anyhooo... Like I said above, Pearson is a single daddy and he is the CEO in the Four Fathers Empire. He has four sons and he has his eyes set on one of his boys girlfriends. Ohhh lawd if you are a K. Webster fan..you know how she loves her Daddy's!!! haha And yupp...Pearson ALWAYS gets what he wants!!! He is very determined to win this girl over and ohhh it will not take much to get her cuz this little lioness has been flaunting her purdy little self in front of the big bad lion!!!

I gave Pearson 5 "I love you Daddy" iScream Cones!!! Thank you for another steamy, quick read K. Webster...I am sooo in LOVE!!!!
Four Fathers Series by bestselling authors
J.D. Hollyfield, Dani René, K Webster, and Ker Dukey
Four genres.
Four bestselling authors.
Four different stories.
Four weeks in April.
One intense, sexy, thrilling ride from beginning to end!
***These books were designed so you can read them out of order. However, they each interconnect and would be best enjoyed by reading them all!***

K Webster is the author of dozens romance books in many different genres including contemporary romance, historical romance, paranormal romance, and erotic romance. When not spending time with her husband of twelve years and two adorable children, she's active on social media connecting with her readers.

Her other passions besides writing include reading and graphic design. K can always be found in front of her computer chasing her next idea and taking action. She looks forward to the day when she will see one of her titles on the big screen.