💗 NEW RELEASE / REVIEW 💗
"Must be slim, able to stand for long periods of time, and be impervious to the cold."
The headline caught my attention.
"Hours are negotiable, pay is minimal, clothing absolutely forbidden."
The second line piqued my curiosity.
"Able to hold your bladder and tongue, refrain from opinions or suggestions, and be the perfect living canvas."
The third made me scowl.
"Other attributes required: non-ticklish, contortionist, and obedient. Must also enjoy being studied while naked in a crowd."
The fourth made me shudder.
"Call or email 'YOUR SKIN, HIS CANVAS' if interested in applying."
The final made my heart race.
I should've kept scrolling past the advertisement.
I should've applied for the boring receptionist job at minimum wage.
I should've clicked on any other job where I got to keep my clothes on.
But I didn't.
I applied.
My interview is tomorrow…
✦ #BlogTour ✦ #Excerpt ✦ #Review ✦
"Things you should know about me from the very beginning:
I was born to true love, witnessed the destruction it causes, and vowed never to let such agony happen to me. I am not a story-teller like my father. I am not a writer like my mother. I am just a son—their son.
I am happy being alone.
And that is all I ever want to be."

JACOB
The day he was born, Jacob learned his hardest and longest lesson.
It wasn't a lesson a boy should learn so young, but from his earliest memories he knew where happiness lives, so does tragedy. Where love exists, so does heartbreak. And where hope resides, so does sorrow.
That lesson carved him from the kid to the teen to the man.
And nothing and no one could change his mind.

HOPE
I first met him when he was fourteen at a movie premiere of all places. A movie based on his parent's life.
He was stoic, strong, suspicious, and secretive.
I was only ten, but I felt something for him. A strange kind of sorrow that made me want to hug and heal him.
I was the daughter of the actor hired to play his father.
We shared similarities.
I recognised parts of him because they were parts of me.
But no matter how many times we met. No matter how many times I tried.
He stayed true to his vow to never fall.
✦ #BlogTour ✦ #Excerpt ✦ #Review ✦
"What do you do when you write down all your secrets? No…that's not enough. What do you do when you write down all your secrets and the one person who should never read them does?
I'll tell you what you do.
You hope."
REN
Ren didn't know the meaning of love until he took Della for his own.
To begin with he hated her, but as the months bled into years, he learned the opposite of hate, dedicating his life to giving her everything.
Every sacrifice, every gift, he gave wholeheartedly.
But then love turned to lust and ruined everything.
DELLA
I was stupid to write my secrets down, but I'd been stupid before so it was nothing new.
I couldn't blame him, hate him, fix him.
I tried to move on without him.
But no matter what I did, I couldn't seem to delete the secrets I'd written.
Until something happened.
Until he came back and read my stupid secrets.
And nothing was the same after that.
✦ #BlogTour ✦ #Review ✦

"Tragedy, turmoil, and the ultimate sacrifice. It's not a question of what I'm willing to sacrifice but who to deserve her...
Can love truly conquer all? Even when so many truths say no?
The last book in the USA Today Bestselling Dollar Series.
✦ #BlogTour ✦ #Review ✦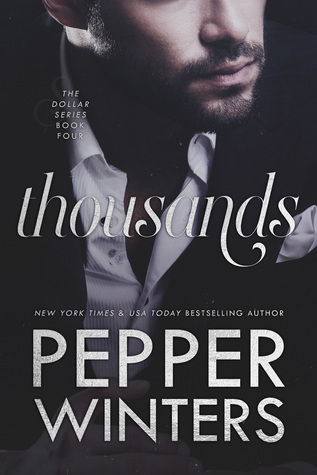 "Love had been stolen from me for reasons entirely my fault. But then a miracle happened, and Pim gave me something I thought was lost forever. She gave me a love I'd earned. Love that ruined me. Love that made me hopelessly hers…"
Once upon a time, I didn't think I'd ever be normal.
Now, I'm talking and trusting, and it's all thanks to Elder.
He gave me my life back, and I gave him my heart, but love stories like ours are never simple.
I did something to protect him.
He did something to survive me.
We screwed up.
And now, it's no longer just about us.
It's about safety, sanctuary, and sin.