Pieces of Us (Confessions of the Heart, #3) by A.L. Jackson
"I absolutely adored all of the sweet emotion, angst, and just all of the feelings "Pieces of Us" inspired. The characters and their growth had me hooked from the first page. Read it. You will not regret it."
~NYT & USA Today Bestselling Author Kylie Scott
My loves!! PIECES OF US IS LIVE!!! I am so freaking excited, I can hardly stand it! This book is EVERYTHING!
Title: Pieces of Us
Series:  Confessions of the Heart, #3
Author:  A.L. Jackson
Genre: 2nd Chance Standalone Contemporary Romance
Release Date: April 20, 2019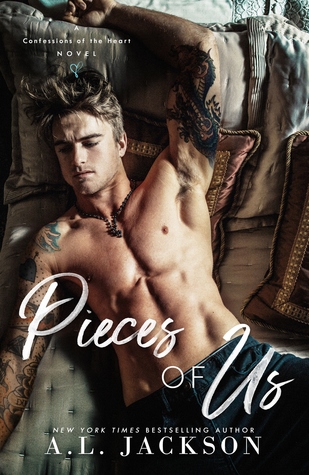 Maxon Chambers has a way of stealing all the attention. 
All my affection, and all my dreams. 
What I needed to remember was he'd stolen my good judgment and my virginity, too. 

When he broke up with me, I ran across the country and swore I'd never return to Broadshire Rim. 
But here I am, thirteen years later. 

Maxon is all grown up.
Sexier than sin and more tempting than ever. 
A detective on the Charleston force, he lives on the outside of safety, devoted to protecting the people of his city.
But with the way he's looking at me now? I'm pretty sure what needs protecting is my heart.

Can we mend the pieces of us? Or will he leave my heart shattered forever . . .
Pieces of Us (Confessions of the Heart, #3) by A.L. Jackson Rosa's rating: 5+ iScream Cones!

"That man had always bled pain. It was his biggest pitfall—his refusal to see that he could live outside of it. The belief that maybe my love could have been enough."

Damn, A.L. Jackson, what have you done to me? I'm ruined now. This has been one of my favorite series ever, and now that I've finished this book about these beautifully broken characters my heart is full, but I'm sad it's over. I'm feeling kinda drunk and gooey, not ready to move on. The Confessions of the Heart series has earned a place on my 'favorites' shelf, and I need paperback copies so I can sigh and fondle them on my bookshelf. ❤

Maxon Chambers (aka Mack) is a #HotCop that I met in the previous books in the series. I've been excited to get to know him and learn his history. I've also been excited to meet the woman that would capture his heart. Now, it's obvious that she wasn't someone in his future, but a woman from his past. As the author took me back in time to when they first met as kids I felt their connection even then. I was pulled into their vortex and totally invested in their whirlwind relationship. I don't blame her for falling for him, I did too. And I don't blame her for being devastated when he broke up with her, I was too.

Mack has been broken his whole life. He is battling demons that keep him from believing he deserves anything good. And she is exactly that, everything good. He became a cop to try to make a difference, but he can't undo all the bad he's done. He was determined to stay away from her, allowing her to find the happiness she deserves. But, then she went and showed up back in his town, looking even more beautiful than he remembered. Yeah, you know what they say about good intentions, right?

Page after page of pain and passion, secrets and betrayal, love and laughter, and danger and suspense. To make it through this incredible story I needed tissues, alcohol, a punching bag, a shovel, a do-not-disturb sign, and more tissues. This series needs to be made into a movie. I know it would be amazing, it's already playing in my head and it's beautiful...sigh.
Ahhh I can't wait for you to experience this story!
I'm so insanely proud of it! I can't wait to hear what you think!
xoxo ~ 
Amy 
A.L. Jackson is the New York Times & USA Today Bestselling author of contemporary romance. She writes emotional, sexy, heart-filled stories about boys who usually like to be a little bit bad.

If she's not writing, you can find her hanging out by the pool with her family, sipping cocktails with her friends, or of course with her nose buried in a book.

Be sure not to miss new releases and sales from A.L. Jackson - Sign up to receive her newsletter or text "aljackson" to 33222 to receive short but sweet updates on all the important news.
Don't miss the awesome giveaway for the Pieces of Us release! It's the first two books from the Confessions of the Heart Series + Kindle Fire + Polaroid Camera + All the Goods!