Playboy (Manwhore, #5) by Katy Evans

Title: Playboy
Series: Manwhore, #5
Author: Katy Evans
Genre: Contemporary Romance
Release Date: July 29, 2018
A brand new contemporary romance from New York Times, Wall Street Journal, and USA Today bestselling author Katy Evans.

It started as a game.

We flirted. We played. Most importantly—we won.

Then I discovered who he was: Gambler. Famous playboy. Silver-eyed player who never plays to lose...

And my best friend's soon-to-be brother in law, Cullen Carmichael.

He needed a good luck charm, I needed a distraction.

So we made a gamble and set off for Vegas—but pretty soon—I was in too deep.

My heart, soul, and body weren't supposed to be part of the deal.

But somewhere between big wins and long nights, my house of cards started to tumble.

What was this devil with those piercing eyes doing to me?

I'd given up on love, but the wicked, all-in Cullen Carmichael was upping the ante and wouldn't stop until he'd won it all.

 
Excerpt from Playboy (Manwhore, #5)
by Katy Evans © 2018
"So you just kissed me because you wanted to." I speak on a breath.
"Very good. You're perceptive. Intuitive."
I realize he's teasing me in that low, terribly rumbly voice and I wish he would smile at me.
He takes my hand and fingers my palm with his thumb as he leads me to our suite.
I'm sizzling where he touches me, nervously prying my hand free when he leads me into the biggest, most spectacular two-bedroom penthouse suite I've ever seen. Not that I'd seen one before in person, only movies.
There's a kitchen area, and windows from floor to ceiling. A living room, a pool table, gold brass chandeliers, a brown-and-beige-patterned carpet, dark woods, Italian leathers. Gorgeous! I could move in here.
Now I see the appeal but won't admit as much.
Thinking of our bet, I pay attention to the art on the walls. It's expensive. I can tell by the numbered print and the signature. Painters with indecipherable and artistic signatures are often the artists to watch. It's like they know from the moment they paint their first work that they're on to something big, something that will distinguish their work from all others.
I wish Cullen loved art as much as I do. Maybe I could drag him away from the tables to a local gallery.
"Wow. I could just live he—" I spin around and bump into his big warm body, and he bends his head and kisses my words right out of me.
Kisses me stupid. Kisses my toes curled. Kisses my brain blank. Kisses my heart crazy.
Playboy (Manwhore, #5) by Katy Evans

Tricia's rating: 5 of 5 iScream Cones

"I CAN'T REMEMBER MY NAME"

Y'all, When I read the line above in the book, and I swear to God, I forgot my name while reading Playboy!!! This book is off the charts freaking AWESOME!!!!

Like....Move over Remy, Cullen Carmichael is stealing your place in my HEART!!!!! SWOON

"They call him Playboy."

And ladies you will soon find out why. And believe me, Cullen Carmichael will be your new BBF!!! He has moved up my list to join some of my very...VERY fav BBF!!

Cullen is the current worldwide champion of Poker players. He is a legend. He has the best poker face around!! And he is HAWT as Fuck!!! Yes ladies, get those air conditioners turned down to the lowest setting cuz you are going to spontaneously combust right along with those Kindles!!! lol

She happens to be at the casino where he is playing. He can't keep his eyes off of her. He has had a bit of a loosing streak but when she comes around....he starts winning and he starts winning real BIG!! Lawd I could feel the whole Indecent Proposal vibe coming on while reading. It was fabulous!!!

Anyway they end up seeing each other later at her best friends wedding. Lots of flirting, fun banter and lots of sexual tension happens between Cullen and her... Cullen can't resist a good bet. Sooo of course a bet is made...ummm like a hot as shit bet was made..lol And the next thing you know is he invites her to Vegas, his next tournament as his good luck charm. She accepts, but they make a pact to only be friends, just have a good time. yeah right lol

Y'all I gave Playboy 5 iScream "will melt" your ice cream Cones. Gahhh I truthfully already want to do a re-read and I just finished reading yesterday. That is how much I loved reading Playboy!!! I of course, already have such a huge book hangover...hmmm is there a pill I can take for that??? lol Thank you Katy Evans for one Hell of a read!!! I freaking loved this book girlie!!!!

*This book contains characters from the Manwhore series but can be read as a complete standalone.**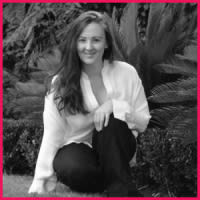 Katy Evans is a New York Times, USA Today, and Wall Street Journal bestselling author. Her debut REAL shot to the top of the bestselling lists in 2013 and since then 9 of her titles have been New York Times bestsellers. Her books have been translated into nearly a dozen languages across the world.