Rebel Heir (The Rush Series, #1) by Vi Keeland & Penelope Ward
Title: Rebel Heir
Series: The Rush Series, #1
Authors: Vi Keeland & Penelope Ward
Genre: Contemporary Romance
Release Date: April 7, 2018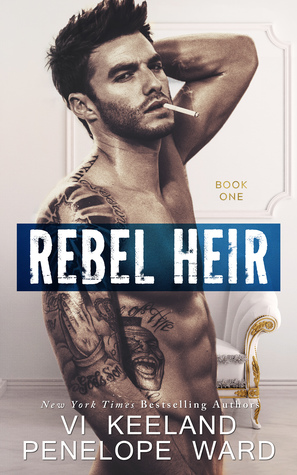 How to kick off a great summer in the Hamptons:

Snag a gorgeous rental on the beach. Check. 

Get a job at a trendy summer haunt. Check. 

How to screw up a great summer in the Hamptons:

Fall for the one guy with a dark leather jacket, scruff on his face, and intense eyes that doesn't fit in with the rest of the tony looking crowd. A guy you can't have when you'll be leaving at the end of the season.

Check. Check. Check.

I should add—especially when the guy is your sexy, tattooed God of a boss.

Especially when he not only owns your place of employment but inherited half of the town. 

Especially when he's mean to you.

Or so I thought.

Until one night when he demanded I get in his car so he could drive me home because he didn't want me walking in the dark. 

That was sort of how it all started with Rush.

And then little by little, some of the walls of this hardass man started to come down. 

I never expected that the two of us, seemingly opposites from the outside, would grow so close. 

I wasn't supposed to fall for the rebel heir, especially when he made it clear he didn't want to cross the line with me. 

As the temperature turned cooler, the nights became hotter. My summer became a lot more interesting—and complicated.

All good things must come to an end, right?

Except our ending was one I didn't see coming.

Rebel Heir is the first book in the Rush Series Duet. Book Two, Rebel Heart, will release six weeks later on May, 22, 2018.



Rebel Heir (The Rush Series, #1) by Vi Keeland & Penelope Ward

Tricia's rating: 5 of 5 iScream Cones

*Walks up to the computer and taps the screen*

Do I have your attention???

Ok…Awesome!!!

Now, go one click Rebel Heir on release day Y'all!!!!

EEEPPPPP I have to hush my fingers from typing cuz they want to type sooo much but I just can't cuz I can't ruin your reading experience…. lol

Okayyy…so one of my very favorite writing duo is back-Vi Keeland and Penelope Ward with their newest book Rebel Heir and it is out of this world fan-dam-tastic!!! Like I will be in a book funk cuz I just finished reading and I am still reeling from it…wahhhh I am about to go rock in the corner to soothe myself…haha

Rebel Heir is about Gia who comes to stay with her friend for the summer so she can finish writing her book that she promised a publisher that she would do. She kinda blew the advancement and she really needed to get this book written or she could be in some serious trouble.. Anyway, lol her roommate needs a favor, and this favor happens to be Gia being the bartender for a night at her friends job. The only thing is Gia has never tended a bar before, she only knows how to make a few mixed drinks, but she knows her friend needs some help so she decides to take it on. Of course the roomy lets her know that if her boss found out she was letting her work her shift and that Gia doesn't have any experience, he would be sooo pissed!!! But no worries…he never hardly comes to the bar. *giggle snort*

Welll guess who shows up to the bar??? Yepp…the pissed off boss..hahaha and he doesn't share who he is at first to Gia, he just kinda sits back and watches Gia screw everything up. He rips her for what she is doing wrong but Gia just sasses right back. Then Mr. Bossman lets her know who he really is and he told her to leave and he was going to fire her friend for letting Gia work her shift and she doesn't know anything about being a bartender. But being the sassy little thing Gia is, she ends up working out a deal with him because he ends up being in a bind and Ohhh myyy gahhhh the banter and the sexual tension in this book is effing off the charts and I LOVE IT!!!!

I gave Rebel Heir 5 iScream OMG Cones!!! You just have to go one click and find out if Gia finishes writing her book and if she gets to keep the job at the bar and see if Mr. Bossman can control this sassy little thing named Gia!!!

PS….I just love this cover!!! I need it on my shelfie today…lol
PSS…lol Vi and Penelope Thank you for another amazing read!!! xxoo
Rush & Gia's story continues in…


Vi Keeland is a #1 New York Times, #1 Wall Street Journal, and USA Today Bestselling author. With millions of books sold, her titles have appeared in over ninety Bestseller lists and are currently translated in twenty languages. She resides in New York with her husband and their three children where she is living out her own happily ever after with the boy she met at age six.
Penelope Ward is a New York Times, USA Today, and #1 Wall Street Journal Bestselling author of thirteen novels. With over a million books sold, her titles have placed on the New York Times Bestseller list sixteen times. She is the proud mother of a beautiful 12-year-old girl with autism (the inspiration for the character Callie in Gemini) and a 10-year-old boy. Penelope, her husband, and kids reside in Rhode Island.
Dear Bridget, I Want You
Amazon: http://bit.ly/2BzYpv8
iBooks: https://apple.co/2simkap
Nook: http://bit.ly/2gZ1Gfs
Kobo: http://bit.ly/2vSMrHi
Mister Moneybags
Amazon: http://bit.ly/2o9AdbI
iBooks: https://apple.co/2kIiGaI
Nook: http://bit.ly/2ENUyg1
Kobo: http://bit.ly/2nXfbuu
Playboy Pilot
Amazon: http://bit.ly/2ERPAyS
iBooks: http://apple.co/1Wb06Cf
Nook: http://bit.ly/2c9vRdV
Kobo: http://bit.ly/2ctb6dv
Stuck-Up Suit
Amazon: http://bit.ly/2o9g0Tb
iBooks: http://apple.co/1Qbwy57
Nook: http://bit.ly/29vrQhV
Cocky Bastard
Amazon: http://bit.ly/2BB9yff
iBooks: http://apple.co/1PffE2J
Nook: http://bit.ly/1EjxNpY
Kobo: http://bit.ly/1UxCSUO