Sex, Not Love by Vi Keeland
Title: Sex, Not Love
Author: Vi Keeland
Genre: Contemporary Romance
Release Date: January 15, 2018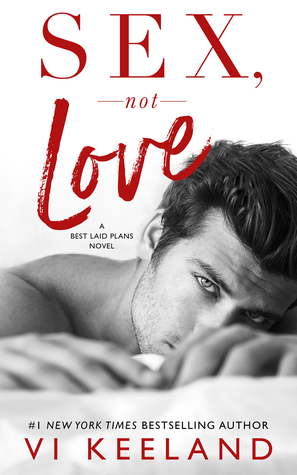 From #1 New York Times Bestseller Vi Keeland, comes a new, sexy standalone novel. 

My relationship with Hunter Delucia started backwards. 

We met at a wedding—him sitting on the groom's side, me sitting on the bride's. Stealing glances at each other throughout the night, there was no denying an intense, mutual attraction. 

I caught the bouquet; he caught the garter. Hunter held me tightly while we danced and suggested we explore the chemistry sparking between us. His blunt, dirty mouth should've turned me off. But for some crazy reason, it had the opposite effect on me.

We ended up back in my hotel room. The next morning, I headed home to New York leaving him behind in California with the wrong number.

I thought about him often, but after my last relationship, I'd sworn off of charming, cocky, gorgeous-as-sin men. A year later, Hunter and I met again at the birth of our friends' baby. Our attraction hadn't dulled one bit. After a whirlwind trip, he demanded a real phone number this time. So I left him with my mother's—she could scare away any man with her talks of babies and marriage—and flew back home.

I'd thought it was funny, until the following week when he rang the bell at Mom's house for Sunday night dinner. The crazy, gorgeous man had won over my mother and taken an eight-week assignment in my city. He proposed we spend that time screwing each other out of our systems. 

Eight weeks of mind-blowing sex with no strings attached? What did I have to lose?

Nothing, I thought.
It's just sex, not love.
But you know what they say about the best laid plans…

 




Sex, Not Love by Vi Keeland

Tricia's rating: 5 of 5 iScream Cones

"Is it possible we slept together and didn't have sex?"
Reaching out, I picked up the edge of the sheet and lifted ever so gently. Then I leaned forward to peer underneath.
Holy Shit.
He was wearing boxer briefs.
But...he had a morning erection. A huge bulge protruded from his tight underwear. There's no way that thing had been inside me. I'd have to be at least a little sore.
Feeling relieved, I set the sheet back down and turned to walk away.
A large hand gripped my wrist.

"You'd remember it, sweetheart. Trust me."

Y'all..Sex, Not Love is soo freaking good and freaking hilarious at times!! Vi Keeland had me rolling with laughter one moment, making me have the feels the next and then fanning myself to get through the...well...S.E.X. Ohhh and then to top it off, the Kissing in this book was sooo swoon worthy. I am such a sucker for a good ole fashion kissing in a book. Yes I know most of the books I read have kissing, but some Authors just know how to turn that heat up about 20 degrees with the kissing in the book and Vi Keeland is one of those Authors that get that heat up and I just LOVE it!!

Ok, so now onto my review..haha So Hunter is the friend of the groom and Natalia-Nat, is friends of the bride. This is where Hunter and Nat meet at their best friends wedding. They have fun at the wedding, a little dancing, a little drinking, well maybe a lot of drinking and then umm as you can read in my first paragraph of my review, they wake up together. Nat is not sure what happened the night before and is trying to figure that out while she is sneaking out the door before getting caught peeking under the sheets..haha Anyway, Nat is going back home to New York and Hunter asked for Natalia's phone number, she gives him the wrong number as a joke. She thinks of him often but blows it off as just one fun night. But a year later they are back in town at the same time to be with their friends cuz now their friends are having a baby. Hunter and Nat meet up again and fun times are back for them both. The only thing is Nat has had bad relationships, her ex was in federal prison and she has full custody of his fifteen year old daughter. She is just not sure if she wants to get into a relationship again, that is when Hunter and Nat decide to make pact of sorts, a no strings attached kind of relationship, a Sex, Not Love relationship. But can they do this without getting feelings for each other, falling for one another? EEpppp.. You will have to read to find out!!!

I gave Sex, Not Love 5 iScream Cones. This book was soo delicious I just wanted more and more!!

Vi Keeland is a #1 New York Times Bestselling author. With more than 1.5 million books sold, her titles have appeared in over eighty Bestseller lists and are currently translated in sixteen languages. She resides in New York with her husband and their three children where she is living out her own happily ever after with the boy she met at age six.