Sins of the Father (Ravens Ruin MC, #1) by Marie James
Title: Sins of the Father
Series: Ravens Ruin MC, #1
Author: Marie James
Genre: MC Dark/Contemporary Romance
Release Date: October 11, 2018
I'm not misunderstood.

I'm not confused about my position in life.

I'm not looking for answers to explain why I am the way I am.

This is the logic others use to try to make sense of me. According to them, there has to be a reason for my apathy. There has to be some sort of explanation for the calculating way I run my Club. There has to be a root cause for my depravity.

They can't wrap their heads around the fact that I'm evil, that I'm darkness personified. Doing so would force them to acknowledge that the Devil has left Hell and is living among them.

Most people may think I'm Satan, but I answer to Lynch, President of the Ravens Ruin MC, and the Antichrist doesn't have sh*t on me.
Sins of the Father (Ravens Ruin MC, #1) by Marie James

Tricia's rating: 5 of 5 iScream Cones

I have finally broken my Marie James cherry!!! I have been a stalker of hers for a while now but just haven't gotten through my never ending TBR. I have heard she writes some damn good MC books and I have been chomping at the bit to get to one of them..lol And what a great way to start with a new series she has releasing!!! Sins of the Father!!! Gahhh now I definitely need to go back and read her other series!!

Zoe aka Candi's friend invited her to a MC party. Candi had heard everybody loved going to these parties so she was ready to go. Candi didn't know that her friend was actually family to these guys though. Candi was warned to stay away from the Ravens Ruin MC prez-Lynch. Lynch was one devious bastard and one Hell of a bad boy. Ohhh y'all, I do have to say Lynch is sooo what I love in my MC guys!!! Lord I could not put this book down, I loved reading every minute of it and LAWD was it Smoken HAWT!!! Marie James, you have that shit down!!!

The first time Lynch sees Candi, he was having a bit of fun and asked her to join, well, he demanded her ass to come join in on the fun. Lynch is such a dirty boy, you just wait and see ladies. Haha Anyway, Candi loves pushing Lynch's buttons and after he finds out who she is he tries soo hard to stay away from her. But it's hard when she is running around in the club with her skimpy clothes on and there is something about this girl he cannot walk away from. She definitely was messing with his head; he could hardly rule his club with her running around. What is a prez to do??

Well you will have to go one click on release day and find out how he handles this girl. You will also get the answers to who she is and why he really should stay away from her. There is soo much good ole MC drama going on it will give you whip lash while you read..and of course this is always another one of my favs to keep those pages turning well into the night!!!

I gave Sins of the Father 5 iScream Books Stars!!! Can't wait for the next book in the series!!!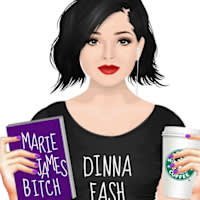 Marie James is a full-time working mother of two amazing little boys and wife of almost 13 years. She enjoys reading in her spare time, and diet coke is always near. Central Texas is where Marie calls home and has lived most of her life. With 13 published books under her belt, she has no desire to stop writing anytime soon and has dozens of book ideas to keep her busy.
Hits: 3