Sol (Love in Translation, #1) by Leslie McAdam
"Sol by Leslie McAdam is a gorgeous story full of poetry, sex, and love."
— USA Today Bestselling Author, Alexis Alvarez
Title: SOL
Series: Love in Translation, #1
Author: Leslie McAdam
Cover Model: Taylor Lotre
Cover Designer: Michele Catalano Creative
Cover Photographer: Cory Stierley
Genres: New Adult, Military, Contemporary Romance
Release Date: October 15, 2017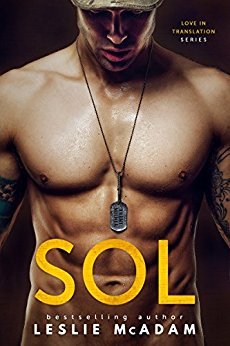 The army taught me discipline. Order. Control.

None of that matters the day I walk into her classroom. 

Or her bedroom.

What's more important than my grade? 

Not failing her.
Sol (Love in Translation, #1) by Leslie McAdam Kim's rating: 5 of 5 iScream Cones

Gather up your blankets, puff up those pillows and settle in to start reading another therapeutic, serene and sexy read by Leslie McAdam!

Leslie McAdam is the kind of author where you fall in love with her characters, her words and then her. Her books have a way of reaching you emotionally and falling victim to these characters existence.

Danika is a woman who doesn't settle in one place or allow anything or anyone to control her. She is as whimsical and mercurial as they come.

Trent was a military man with a military built body and tattoos on top of that. He made a promise to his best friend and this mission is one he couldn't and wouldn't allow himself to fail. Finding Danika was the easy part, having her accept another loss was hard part.

Danika couldn't even accept her brother going into the military much less accept that it was the cause of his death. She also wouldn't accept that the love that Trent had for her since they were kids was genuine. And if it was, he could give her the independence she demanded in her life?

"I'm too used to having the freedom to not having to answer to anyone"
"If anyone is gonna fight for your freedom, babe, it's a soldier."

Two beautiful souls torn apart by a hard devastating loss of a brother and a best friend, Degan, who couldn't be more selfless or have bigger heart.

After four years apart Trent and Danika have to find acceptance for their loss but also find acceptance and forgiveness for being the ones to continue living. Could they allow themselves to find love in each other and not lose themselves in the process?

I wish I wasn't here writing this review.
Instead I wish I was still in the world Sol.

Leslie McAdam paints worlds with her words, worlds you tumble into feeling sung, soothed and completely satisfied by.
Leslie McAdam is a California girl who loves romance, Little Dude, and well-defined abs. She lives in a drafty old farmhouse on a small orange tree farm in Southern California with her husband and two small children. Leslie always encourages her kids to be themselves – even if it means letting her daughter wear leopard print from head to toe. An avid reader from a young age, she will always trade watching TV for reading a book, unless it's Top Gear. Or football. Leslie is employed by day but spends her nights writing about the men you fantasize about. She's unapologetically sarcastic and notoriously terrible at comma placement (that's what editors are for!). Always up for a laugh, Leslie tries to see humor in all things. When she's not in the writing cave you'll find her fangirling over Beck, camping with her family, or mixing up oil paints to depict her love of outdoors on canvas.