Sundays are for Hangovers by K. Webster & J.D. Hollyfield
Title: Sundays are for Hangovers
Authors: K. Webster & J.D. Hollyfield
Genres: Romantic Comedy, #Enemies2Lovers
Release Date: May 21, 2018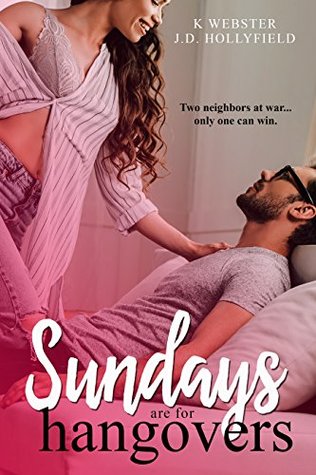 For nearly a year, they've been at war. 

Cops. Forks. Eggs. 

Two feuding neighbors who couldn't be more opposite, forced to live next door to one another. 

Neither is backing down. 

She drives him crazy with her loud nineties rap music. 

He gets under her skin the way he obsesses over his stupid perfect lawn. 

She fantasizes about having sex with the hot nerd—but with duct tape over his dumb mouth. 

He has dirty dreams of the bombshell beauty where he bangs the crazy right out of her—nightmares of course. 

Anger isn't the only thing heating up between these two. 

They think this is a battle only one of them can win… 

The growing attraction between them, though, seems to be far more stubborn than the two of them combined. 
Excerpt from Sundays are for Hangovers
by K. Webster & J.D. Hollyfield © 2018
I stewed all day at work over the kiss that almost led to so much more. She's making me lose my mind. I even made an error on a calculation and damn near accused the head of the mortgage department of fraud. What an ass I felt like when I reran the numbers only to conclude I was, in fact, wrong.
I'm never wrong.
I yank off my T-shirt and wipe the sweat from my face as I run. My phone is playing some old-school Metallica. The loud, raging guitars not only make me want to pull out my own guitar and start plucking away on some songs, but it also helps pump me up into realizing this morning was a mistake.
Lilith is hot, no doubt.
But I can't stand her.
How does one want to fuck someone they hate?
I'm just rounding the corner to my street when I nearly trip over my own feet and fall. Lilith, in a black bikini top and a pair of cut-off daisy duke shorts, is washing her cherry-red Mustang in her driveway. The sun is going down, but the sunlight seems to seek her out. Golden strands in her hair catch the light and glimmer. I trot to a stop just to stare.
Fuck, there goes my resolve.
Wet. Bangin' body. Tits and curves and that ass.
I'm hopeless.
I catch the old man, Mr. Daniels, across the street swinging in his porch swing, a goofy grin on his gray-whiskered face. It makes me want to build a fence in front of her house so he can't look at her. Being President of the HOA, I could probably even get away with it…
"Yo, Wonka," she calls out as I near. "You're looking hot."
I puff out my bare chest and smirk because at least someone notices all the hard work—
All thoughts are dashed when cold water blasts me in the face.
"Better cool you off!" she yells as she sprays me down.
She shoots my glasses right off my face and I end up dropping my shirt. I don't stop to pick my shit up but instead chase down the blur who is now running from me while trying to soak me at the same time. I hook an arm around her wet waist but end up stumbling over my own feet since I can't see where the fuck I'm going. We land in her grass with a collective "oomph." She's face down and my dick is conveniently pressed against her ass.
"You live to antagonize me," I grumble as I bury my nose in her hair and inhale her.
She wiggles and the only thing she's successful at doing is making me impossibly harder. "You started it."
"And I'll finish it."
I tug at the string on her neck and then the one at her mid back. With a quick pull, I relieve her of her bikini top.
"Oh no, you just didn't!" she squeals, a loud, adorable laugh escaping from her.
It's then as I rise to my feet with her top in my hand that I realize my crazy neighbor is getting under my skin. She's burying herself deep inside of me so I can't think or focus on anything else. And I'm not sure I want to anyway.
She stands with her palms covering her perfect tits. Her smile is wicked as she arches a brow at me and backs up toward her house. "It's on, Wonka. It's fucking on."
I smirk at her cute, dirty mouth. "Technically it's off, demon girl." I sling her top over my shoulder and walk over to collect my glasses and shirt. "Just face it, you're not winning anything." I slide on my glasses so I can fully appreciate the swells of her tits barely contained by her tiny hands.
Her back hits the front door and she shrugs. "We'll see."
And then she flips me off before slipping inside her house.
But not before me and Mr. Daniels get a nice, quick peek of a perfect tit I'm convinced I won't see the last of.
Game on, Lilith, game on.
Sundays are for Hangovers by K. Webster & J.D. Hollyfield

Tricia's rating: 5 of 5 iScream Cones

"She's my annoying-ass neighbor." "More like I want to tap that ass neighbor."

Y'all Sundays are for Hangovers was freaking Hilarious!!!! I read this book in one day and it made me literally laugh my ass off at times!! This book is a Hate to Lovers Rom Com by my fav Cray…Cray Duo-K. Webster and JD Hollyfield. These two together are fan-dam-tastic!!! I had no idea when one author stopped and another began. It reads like one well oiled machine!! haha

Sooo this book is about Will and Lilith. Lord Lilith just gets under poor Will's skin, she can not quit effing his yard up..haha She tries to be friends, bring him dinner, say hello but he ain't having it!! He just gets his undies in a wad every time she comes around. She is like a hurricane coming right for him and his house..lol

"For nearly a year, they've been at war. Cops. Forks. Eggs. Two feuding neighbors who couldn't be more opposite, forced to live next door to one another."

Of course, you know how much I love banter…Well Sundays are for Hangovers is full of BANTER and Sexual Tension…ohhh LAWD the Sexual Tension was off the charts…eeeppp y'all have to go one click on release day and get ready for some good ole belly laughs..haha

I gave Sundays are for Hangovers 5 "Love thy Neighbor" iScream Cones!!! I am biting at the bit to find out who wrote what…I have a feeling I will be messaging these authors and asking cuz I just can't stand not knowing…lol

K. Webster
K Webster is the author of dozens romance books in many different genres including contemporary romance, historical romance, paranormal romance, and erotic romance. When not spending time with her husband of twelve years and two adorable children, she's active on social media connecting with her readers.

Her other passions besides writing include reading and graphic design. K can always be found in front of her computer chasing her next idea and taking action. She looks forward to the day when she will see one of her titles on the big screen.
J.D. Hollyfield
J.D. Hollyfield is a creative designer by day and superhero by night. When she's not trying to save the world one happy ending at a time, she enjoys the snuggles of her family and three doxies. With her love for romance, and head full of book boyfriends, she was inspired to test her creative abilities and bring her own story to life.

J.D. Hollyfield lives in the Midwest, and is currently at work on blowing the minds of readers, with the additions of her new books and series, along with her charm, humor and HEA's.