The Partners aren't done with the Montford family and there is blood to be spilled…
I'm a monster.
I have a darkness that I can't control and it begs to be let free.
A monster that has sold their soul to the criminal underground.
I shouldn't like the taste of blood.
But the power it gives me feeds the malevolence inside me.
A monster that is tasked to kidnap someone.
A gorgeous, feisty woman who looks at me without fear in her eyes. Her fight causes a primal feeling inside of me.
I know I can't have her and yet that doesn't stop me from wanting to defile her.
I'm torn between loyalty and taking her as mine to protect.
Both our lives hang in the balance.
And now the gun is pointed at me, but I'm not scared to get blood on my hands.
Because I'm a monster.
And my darkness is ready to make my captive mine.
**This is book 2 in The Partners series. While they are standalones, it is best they are read in order.
This is a dark romance suitable for readers 18+.
The town of Bedlam was born of rioters, revolt, pain, and murder.
Over a hundred years later, nothing has changed.
A shadow clings to our lives. Stalking, watching, waiting, taunting, and killing. And when it struck, I wasn't ready.
I have to play their game now. Catch them, kill them, before Ruckus Royale or they'll claim another sacrifice.
The trouble is a new band of outlaws are in charge, and Arsenio, Cairo, Jacques, Legend, and Roan don't take well to people ruining their fun.
On the one night a year where anything goes, mayhem will sweep through the streets and the Kings of Ruckus will rule.
I have my orders. A life to save and a life to take.
And when my punishment comes for framing the Bedlam Boys, I'll welcome it. I'll let them bind me, chain me, and strip me of the sweet, innocent girl I never got to be.
Under their twisted, scorching love I will atone for the crimes paid and the ones still to come.
In the end, Bedlam will be brought to its knees to bow before its first queen.
It's a common story. I'm sure you can guess how it goes.
Girl winds up in the wrong place at the wrong time.
She witnesses four gods of beauty and brutality murder some poor sap, and she's stupid enough to get caught.
Come on. You know what happens next.
You know they tracked her… me… down.
I don't need to tell you that they claimed me. Ripped me from my safe, perfect world and bound me in chains to their throne.
All of that is obvious.
It's the part where they corrupted me, dragged me into their world of death and destruction, made me theirs in every way I didn't know was possible, and I became a soldier in a war that will bring all of Cinco City to its knees…
…that's when it gets interesting.
Saint is a dark contemporary why choose romance. This is book one in the series and features language, dark themes, and sexual scenes. If you're cool with that, dive in!
✦ #ReleaseBlitz ✦ #Excerpt ✦ #Review ✦ #Giveaway (Paperback - Intn'l)
"A sultry summer of suspense that leads to the fall of a power family."
He warned me. Said hawks were dangerous birds. Their majestic beauty could blind your eyes as they picked the flesh from your bones.
But even hawks have enemies. And they eventually came for the Hawthorn family. Held us hostage. Demanded retribution.
But I wasn't a Hawthorn. No, I was just the help. Caught in the turmoil of a tragic family. I worked hard for Delsey Hawthorn. Tried to earn the respect of the reigning tyrant. Assistant. Event planner. Gardner. Chauffeur. I added it all to my resume.
And then I met Javier Hawthorn. Delsey ordered me to stay away from her grandson. But like a moth to a burning flame, I gravitated toward him. He was so different than my world. Irresistible. Charming. He brought a calmness to the chaos.
But that was before the intruders came into the house. Tied us up. Hurt us. We struggled to get away. We fought to survive.
But who were the men behind the masks? Did we know them? Because someone who got this close to the family at night must be even closer during the day.
✦ #NewRelease ✦ #Review ✦ #Giveaway ($25.00 Amazon Gift Card) ✦
"The velvet tongue"
That's what they hear
"The silent fixer"
That's what they whisper
"Turo DeMarco can slice you with that smile"
It's been known to happen
But the one truth they don't know could get me killed.
It's already gotten me thrown into the fire.
I may be the rising dark star of Chicago's criminal underworld, but I've been warned,
and I have one chance to make things right, flying halfway around the world to do it.
Until one hot AF heiress gets in my way with an unforgettable kiss and a blast of gunfire, hurling us both into the eye of a Mediterranean hurricane, snaring us in the ultimate high stakes games
Our impulsive escape to a Greek island exposes cruel lies, sour truths, explosive passion…and bares our bitter souls
I was always told that actions speak louder than words,
and Adriana proved it to me
Yet there's one thing that speaks even louder—
Blood
In my heart, on my hands.
Blood never lies, blood never plays games.
And neither do I.
✦ #BookBlitz ✦ #Sale! ✦ #Giveaway ($10.00 Amazon Gift Card) ✦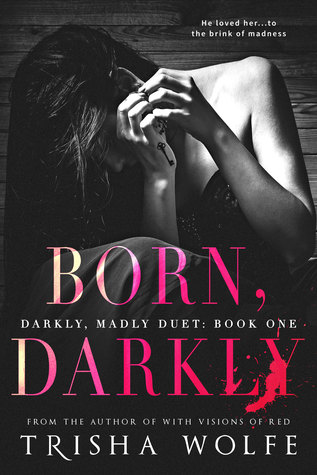 He challenged her sanity.
She shattered his reality.
They dared each other...to the brink of madness.
A dark and twisted maze awaits criminal psychologist London Noble when she falls for her patient, convicted serial killer, Grayson Pierce Sullivan. As she unravels the traps, her sanity tested with each game, she's forced to acknowledge the true evil in the world around her.
✦ #ReleaseBlitz ✦ #Review ✦
True power is never held by good men, only the most perfect of villains. And she and I are both villains…
I stole her from her precious cartel, and now she's my pretty little pawn. She should fear me, but she doesn't. I'll have to teach her…
I put a gun to her head and she holds a knife to my throat. Round and round we go, inviting the sickness that consumes us both. We play our twisted game with sweet threats and cruel promises, neither backing down. I crave her madness in the most depraved ways.
Only a woman as ruthless as Camilla could ever make me weak, and she'd love to watch me crumble.
Two very bad people who want very bad things are never safe together.
Some love stories have no heroes.
✦ #ReleaseBoost✦ #Review ✦
Vasilije Markovic is the prince of the Serbian mafia and one of the most powerful men in Chicago. His smile may be razor sharp, but he's crueler than the devil.
I'm playing a dangerous game and betting my life I'm going to win. I pretend to be his pawn. I do as he says and move where he tells me, letting him think he's in control as I position myself for revenge.
Every turn brings us closer. His grin doesn't seem as evil when we're alone. Behind closed doors, I welcome his unrelenting and vicious personality. He's confessed all his secrets, but I'm holding one back and it's a game changer.
If I survive the board, this pawn turns into a queen. I become the most powerful player and send all the other pieces running. To get what I want, I must make sacrifices, but am I willing to draw the line at him?