Taking It Slow (Doing Bad Things, #3) by Jordan Marie
Title: Taking It Slow
Series: Doing Bad Things, #3
Author: Jordan Marie
Genres: Romantic Comedy, Multicultural Contemporary Romance
Release Date: March 13, 2018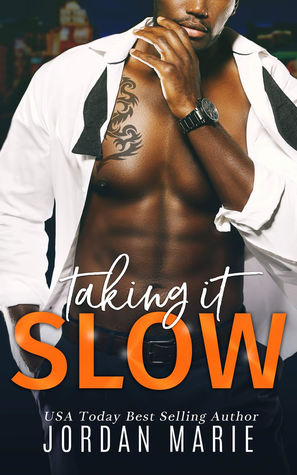 A bottle of tequila 
10 lime wedges 
1 sexy blonde 
Add in a crazy Vegas weekend

Lick and Swallow.

What do you get? A recipe for disaster. 

Titan 
Last night I got married.
I think. 
I'm not exactly sure. 
I was drunk off my ass, so it's not exactly crystal clear. 
But, I woke up with a ring on my finger, a marriage certificate, and a sneaking suspicion I had a wild wedding night.
Oh, and a bride who is long gone. 

Apparently, what happens in Vegas doesn't always stay here. Sometimes it takes off running. 
But a runaway bride is the least of my problems. 

Now I'm chasing after my runaway bride with divorce on my mind. 
What could go wrong?
Besides everything. 

This is book 3 in the series, but is self-contained and can be read as a standalone. HEA inside and absolutely no cheating of any kind.
Faith

I whimper when the damn ping of my phone won't hush. I squint, opening one eye—and one eye only.

Sweet Jesus on a turnip truck, I drank way too much last night. I warned Hope I didn't do weddings. I hate them. She was in Vegas, everyone knows you do the deed at a quicky drive-thru chapel somewhere and get it done—if you are ever crazy enough to say "I do."

I won't… ever.

Slowly the room begins to come into a focus… it's a blurry focus, but still.

The first thing I notice is everything hurts.

Even my hair.

Definitely had too much to drink. The second thing I notice is I'm not in my one-room apartment, lying on my broken-down, never comfortable, probably ruining my back forever, futon.

I'm in a bed. A really soft bed. I'm also in what appears to be a very fancy room. A room with entirely too much sunshine coming in through the windows. My gaze immediately goes to the open glass doors that lead out to a balcony. When I look around I can see I'm not only in a strange hotel room, I'm in one that costs bank.

Lots of bank.

Then, I just happen to notice the crumpled wedding dress on the concrete floor of the balcony.

That's when panic begins, as memories flood through my mind.

Memories of the night before.

Of course, it might not be the crumpled dress that brings those back quite as much as the huge leg—not that leg—wrapped over mine, the arm currently wrapped across my stomach and the third leg—yes, that "leg"—pushing against my ass.

I look down at the milk chocolate beast of an arm and I swear the female bits between my legs tingle as memories of the night before flood through me. Memories of… Titan. I have the strongest urge to wiggle against the semi-aroused cock pressing against my ass, but I don't. I hold myself really still.

Because I'm in the middle of the biggest panic attack ever.

I can't remember all of what I did last night. It's a blur of devil's juice, eating the worm—disgusting, by the way, and I may never drink tequila again—and sex… so much sex.

Sex everywhere. Bed, floor, shower, closet—don't ask—and against the wall. Sex against the floor-to-ceiling window with my ass mooning the strip, but… sex on that balcony after I was stripped of my wedding dress is the one that sticks in my mind. Sex where I hung over the concrete balcony screaming, "Fuck me, harder, Big Daddy," while Titan did indeed fuck me harder for everyone and anyone to see. There are other balconies close by. I can't be entirely sure who saw us… or who we may have scarred forever.

Because, let's face it, sex in real life is never like the porn movies.

I slide out of the bed an inch at a time—panic making my heart slam against my chest so loud I want to cry, because my head hurts like hell. Titan grumbles but flops over on his back, still asleep. I stand there looking down at him and I can't move.

He's that beautiful.
Taking It Slow (Doing Bad Things, #3) by Jordan Marie

Rosa's rating: 5 of 5 iScream Cones


"If the stupid fits wear it!"


It wasn't until I started reading Taking It Slow that I realized it was part of a series that I'd already started. That just made it even better as I got to catch up with some favorite characters, especially Aunt Ida Sue and her cow, Hamburger. I really dig her kind of crazy, she's very entertaining. Actually, the whole Lucas family has the crazy gene and I laughed my way through the story, start to finish.

As I got further into the story I realized that I'd already met Titan. His two best friends are Aden & Gavin who were featured in the first two books in the series. Each can be read as a standalone though. Titan is a pro football player and has a big, beautiful muscled body with lickable abs to show for the hours of practice and exercise. And that's not all he's got…  Get your mind out of the gutter, that's not what I meant, but he does (wink-wink). I was gonna tell you about his new wife. The one that he was too drunk to remember marrying in Vegas until he woke up with a ring on his finger and a marriage license. What he didn't wake up with was a wife. She fled the scene, leaving him to clean up the mess that was his life. However; he couldn't fix it until he found her…his runaway bride.


Usually, I find myself choosing sides when relationships start out rocky, but I couldn't bring myself to dis either of them. They are both amazing characters and their chemistry is off the charts. Being inside the head of Tristan when he found his missing bride had me in stitches. Knowing what he was seeing and thinking before he realized he'd found her was priceless. Props to the author for coming up with that unique situation that makes me giggle snort every time I think about it.

I wish I could tell you more, but I noticed that the author chose not to disclose who his absent bride was, so I'll leave the mystery for you to discover on your own. I guarantee that you will enjoy unwrapping this gift all by yourself, one delicious page at a time. The excitement of the chase and the anticipation of the sparks flying when they reconnected kept me glued to my kindle way past my bedtime. But it was well worth the book hangover I suffered later as I turned the last page with a smile on my face. I don't know if this is the end of the series or not, but the author teased me at the end of the book with a peek at another story that I can't wait to get my hands on. The line forms here…
Want to catch up on the Doing Bad Things series?
A QUIRKY WRITER GOING WHERE THE VOICES TAKE HER.

USA Today Best Selling Author Jordan Marie, is just a simple small town country girl who is haunted by Alpha Men who talk in her head 24 hours a day.

She currently has 14 books out including 2 that she wrote under the pen name Baylee Rose.

She likes to create a book that takes you on an emotional journey whether tears, laughter (or both) or just steamy hot fun (or all 3). She loves to connect with readers and interacting with them through social media, signings or even old fashioned email.
Hits: 6