Taunting Tony by Marie James

Title: Taunting Tony
Author: Marie James
Genre: M/M Contemporary Romance
Release Date: May 3, 2018

Rules. 

They're a necessity. They make the world go 'round and help idiots function in society.

Most don't require much thought and are easy to follow—or so I thought… 

I didn't realize, however, that the new group of people I became friends with could have so many.

No sleeping with group member's moms? Easy enough.

No shirts at the BBQ? I'm all over that. Do you know how hot it gets in Texas during summertime?

No sleeping with others in the group? Now this one… This one is killing me.

If you saw Joseph Snow, with those killer abs and cocky smirk, you'd be thinking the exact same thing… rules are meant to be broken.

Taunting Tony is an MM contemporary romance.

 

Taunting Tony by Marie James

Rosa's rating: 4 of 5 iScream Cones

"Holy happy trail, Batman."

Being a fan of the author's MC series I decided to follow her into her latest M/M Contemporary Romance. And yes, as expected it's funny, but the underlying feelings and relationships are real among the featured group of friends.

Anthony is new to town and to the group. Being the new guy he's trying to fit in and not rock the boat. But damn, he's never heard of so many rules in his life. How will he ever remember them all? And what will happen if he unintentionally breaks one? You know, like the one that forbids him crushing on another member of the group... What if his lips or his dick accidentally falls on the object of his obsession?

Taunting Tony is his new favorite hobby. Since they're not allowed to be more than friends, picking on the 'new guy' and making up new rules as he goes is very entertaining. Keeping his lust to himself, not so much... Especially when they have their backyard BBQ near the water and he gets his first glimpse, "when golden skin and more ripples than I can count are revealed. That thin line below his belly button, the way his swim trunks sit on his trim hips. Perfection."

To make things even more fun, he has a cohort. His best friend is the only girl in the group and she joins in when he decides to ogle and tease the men. The two of them together are hilarious and sweet together. They've been friends for years and know each other's secrets, well at least they did...until Tony. 

I enjoyed this sometimes amusing, occasionally frustrating, and other times heartbreaking look into the lives of a close-knit group of friends. One minute I was giggling, then I was rolling my eyes, and the next page had me ready to throw my kindle. My head could see where some of the rules came from, but my heart wanted to write an addendum and enforce it. Because 'taunting Tony' had consequences.

Who knows what direction the author will take her readers next, I love surprises. The line forms here...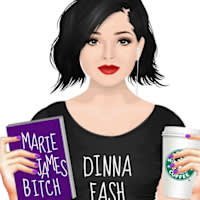 Marie James is a full-time, working mother of two boys and wife of 13 years. She's spent almost her entire lifetime living in central Texas, with only short stays in South Carolina, Alabama, and Florida. She's always wanted to write novels and currently has 16 titles under her belt. Her passions include reading everything under the sun and plotting out new books to write in the future.