💗 REVIEW TOUR 💗
A new, sexy standalone from #1 New York Times Bestseller, Vi Keeland.

When I first encountered Ford Donovan, I had no idea who he was…well, other than the obvious. Young, gorgeous, successful, smart. Did I mention young? If I did, it bears repeating. Ford Donovan was too young for me.

Let's back up to how it all started. My best friend decided I needed to start dating again. So, without my knowledge, she set up a profile for me on a popular dating site—one that invited men ages twenty-one to twenty-seven to apply for a date. Those nicknamed Cunnilingus King were told they'd go straight to the top for consideration. The profile wasn't supposed to go live. Another point that bears repeating—it wasn't supposed to.

Nevertheless, that's how I met Ford, and we started messaging. He made me laugh; yet I was adamant that because of his age, we could only be friends. But after weeks of wearing me down, I finally agreed to one date only—my first after twenty years of being with my high school sweetheart. I knew it couldn't last, but I was curious about him.

Though, you know what they say…curiosity kills the cat.

My legs wobbled walking into the restaurant.
Ford was seated at the bar. When he turned around, he took my breath away.
His sexy smile nearly melted my panties.
But…he looked so familiar.
As I got closer I realized why.
He was the son of the neighbor at our family's summer home.
The boy next door.
Only now…he was all man.
I hadn't seen him in years.
I left the restaurant and planned to put the entire crazy thing behind me.
Which I did. Until summer came.
And guess who decided to use his family's summer home this year?
✦ #NewRelease ✦ #Review ✦
Bennett Fox walked into my life on one hell of a crappy Monday morning.
I was late for the first day at my new job—a job I'd now have to compete for even though I'd already worked eight years to earn it, because of an unexpected merger.
While I lugged my belongings up to my new office, a meter maid wrote me a parking summons.
She'd ticketed a long line of cars—except for the Audi parked in front of me, which happened to be the same make and model as mine.
Annoyed, I decided to regift my ticket to the car that had evaded a fine. Chances were, the owner would pay it and be none the wiser.
Except, I accidentally broke the windshield wiper while slipping the ticket onto the car's window.
Seriously, my day couldn't get any worse.
Things started to perk up when I ran into a gorgeous man in the elevator. We had one of those brief moments that only happened in movies.
You know the deal…your body lights up, fireworks go off, and the air around you crackles with electricity.
His heated stare left me flush when I stepped off the elevator.
Maybe things here wouldn't be so bad after all.
Or so I thought.
Until I walked into my new boss's office and met my competition.
The gorgeous man from the elevator was now my nemesis. His heated stare wasn't because of any mutual attraction. It was because he'd seen me vandalize his car. And now he couldn't wait to annihilate his rival.
There's a fine line between love and hate—and we shouldn't cross it.
We shouldn't—but straddling that line could be so much fun.
✦ #NewRelease ✦ #Excerpt ✦ #Review ✦
From New York Times bestselling authors Vi Keeland and Penelope Ward comes an unexpected love story of secondhand hearts and second chances…

It all started with a mysterious blue note sewn into a wedding dress.

Something blue.

I'd gone to sell my own unworn bridal gown at a vintage clothing store. That's when I found another bride's "something old."

Stitched into the lining of a fabulously feathered design was the loveliest message I'd ever read: Thank you for making all of my dreams come true.

The name embossed on the blue stationery: Reed Eastwood, obviously the most romantic man who ever lived. I also discovered he's the most gorgeous. If only my true-love fantasies had stopped there. Because I've since found out something else about Mr. Starry-Eyed.

He's arrogant, cynical, and demanding. I should know. Thanks to a twist of fate, he's my new boss. But that's not going to stop me from discovering the story behind his last love letter. A love letter that did not result in a happily ever after.

But that story is nothing compared to the one unfolding between us. It's getting hotter, sweeter, and more surprising than anything I could have imagined.

Something new.

But I have no idea how this one is going to end . . .
✦ #NewRelease ✦ #Review
From #1 New York Times Bestseller Vi Keeland, comes a new, sexy standalone novel.

It was just a typical Monday.

Until the big boss asked me to make the pitch for a prospective new client.

After two years on shaky ground at work because of my screw up, an opportunity to impress the senior partners was just what I needed.

Or so I thought…

Until I walked into the conference room and collided with the man I was supposed to pitch.

My coffee spilled, my files tumbled to the ground, and I almost lost my balance.

And that was the good part of my day.

Because the gorgeous man crouched down and looking at me like he wanted to eat me alive, was none other than my ex, Gray Westbrook.

A man who I'd only just begun to move on from.

A man who my heart despised—yet my body obviously still had other ideas about.

A man who was as charismatic and confident as he was sexy.

Somehow, I managed to make it through my presentation ignoring his intense stare.

Although it was impossible to ignore all the dirty things he whispered into my ear right after I was done.

But there was no way I was giving him another chance, especially now that he was a client
…was there?
✦ #BlogTour ✦ #Review ✦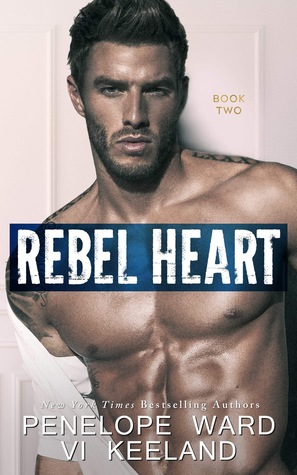 Rush and Gia's story continues in the gripping conclusion to Rebel Heir…
How to screw up a great summer in the Hamptons:
Sleep with your boss. Check.
Blow all your money on a rental you can't afford. Check.
How to walk away from a man you fall in love with at the end of a summer:
…I'll let you know when I figure it out.
Rebel Heir is the second book in the Rush Series Duet. Book One, Rebel Heir, is available for sale now.
✦ #NewRelease ✦ #ReviewBlitz ✦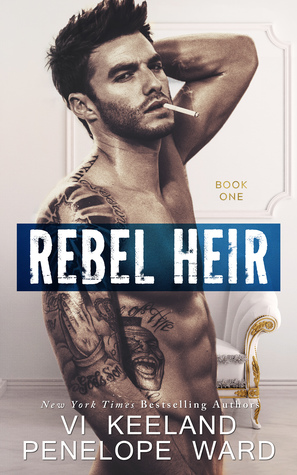 From New York Times Bestselling authors Vi Keeland and Penelope Ward, comes the first book in a new, sexy duet.
How to kick off a great summer in the Hamptons:
Snag a gorgeous rental on the beach. Check.
Get a job at a trendy summer haunt. Check.
How to screw up a great summer in the Hamptons:
Fall for the one guy with a dark leather jacket, scruff on his face, and intense eyes that doesn't fit in with the rest of the tony looking crowd. A guy you can't have when you'll be leaving at the end of the season.
Check. Check. Check.
I should add—especially when the guy is your sexy, tattooed God of a boss.
Especially when he not only owns your place of employment but inherited half of the town.
Especially when he's mean to you.
Or so I thought.
Until one night when he demanded I get in his car so he could drive me home because he didn't want me walking in the dark.
That was sort of how it all started with Rush.
And then little by little, some of the walls of this hardass man started to come down.
I never expected that the two of us, seemingly opposites from the outside, would grow so close.
I wasn't supposed to fall for the rebel heir, especially when he made it clear he didn't want to cross the line with me.
As the temperature turned cooler, the nights became hotter. My summer became a lot more interesting—and complicated.
All good things must come to an end, right?
Except our ending was one I didn't see coming.
Rebel Heir is the first book in the Rush Series Duet. Book Two, Rebel Heart, will release six weeks later on May, 22, 2018.
✦ #NewRelease ✦ #ReviewBlitz ✦
From

#1

New York Times

Bestseller Vi Keeland, comes a new, sexy

standalone

novel.

My relationship with Hunter Delucia started backwards.

We met at a wedding—him sitting on the groom's side, me sitting on the bride's. Stealing glances at each other throughout the night, there was no denying an intense, mutual attraction.

I caught the bouquet; he caught the garter. Hunter held me tightly while we danced and suggested we explore the chemistry sparking between us. His blunt, dirty mouth should've turned me off. But for some crazy reason, it had the opposite effect on me.

We ended up back in my hotel room. The next morning, I headed home to New York leaving him behind in California with the wrong number.

I thought about him often, but after my last relationship, I'd sworn off of charming, cocky, gorgeous-as-sin men. A year later, Hunter and I met again at the birth of our friends' baby. Our attraction hadn't dulled one bit. After a whirlwind trip, he demanded a real phone number this time. So I left him with my mother's—she could scare away any man with her talks of babies and marriage—and flew back home.

I'd thought it was funny, until the following week when he rang the bell at Mom's house for Sunday night dinner. The crazy, gorgeous man had won over my mother and taken an eight-week assignment in my city. He proposed we spend that time screwing each other out of our systems.

Eight weeks of mind-blowing sex with no strings attached? What did I have to lose?

Nothing, I thought.
It's just sex, not love.
But you know what they say about the best laid plans…
✦ #NewRelease✦ #ReviewBlitz ✦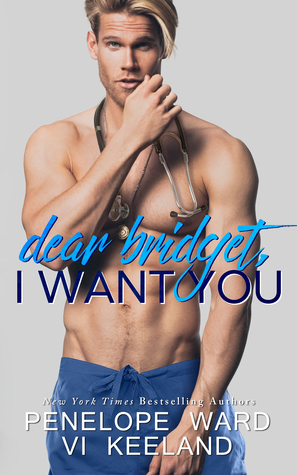 From the New York Times Bestselling authors of Stuck-Up Suit and Mister Moneybags, comes a sexy new standalone novel.
Dear Bridget,
I'm writing this letter because it's highly doubtful I'll ever garner the courage to say this to your face.
So, here goes.
We're totally wrong for each other. You're the proper single mum with a good head on your shoulders. I'm just the carefree British doctor passing through town and temporarily living in your converted garage until I head back to England.
But here's the thing… for some bloody reason, I can't stop thinking about you in very inappropriate ways.
I want you.
The only reason I'm even admitting all of this to you right now is because I don't believe it's one-sided. I notice your eyes when you look at me, too. And as crass as I appear when we're joking around about sex, my attraction to you is not a joke.
So, what's the purpose of this note? I guess it's a reminder that we're adults, that sex is healthy and natural, and that you can find me just through the door past the kitchen. More specifically, it's to let you know that I'm leaving said door cracked open from now on in case you'd like to visit me in the middle of the night sometime.
No questions asked.
Think about it.
Or don't.
Whatever you choose.
It's doubtful I'll even end up sliding this letter under your door anyway.
--Simon
✦ #ReviewTour ✦
A sexy new standalone from #1 New York Times bestselling author, Vi Keeland
The first time I met Caine West was in a bar.
He noticed me looking his way and mistakenly read my scowling as checking him out.
When he attempted to talk to me, I set him straight—telling him what I thought of his lying, cheating, egomaniacal ass.
You see, the gorgeous jerk had wined and dined my best friend--smooth talking her into his bed, all along failing to mention that he was married.
He deserved every bit of my tongue-lashing and more for what he'd done.
Especially when that lazy smile graced his perfect face in response to my rant.
Only it turned out, the man I'd just told off wasn't the right guy.
Oops. My mistake.
Embarrassed, I slunk out without an apology.
I was never going to see the handsome stranger again anyway, right?
That's what I thought…until I walked into class the next morning.
Well, hello Professor West, I'm your new teaching assistant.
I'll be working under you…figuratively speaking.
Although the literal interpretation might not be such a bad thing—working under Professor West.
This was going to be interesting…