Worship Me (Men of Inked, #7) by Chelle Bliss
NOW AVAILABLE from USA Today bestselling author, Chelle Bliss, comes the seventh book in the Men of Inked series. James and Izzy are back and they're hotter than ever. Don't miss the next installment in the Men of Inked series.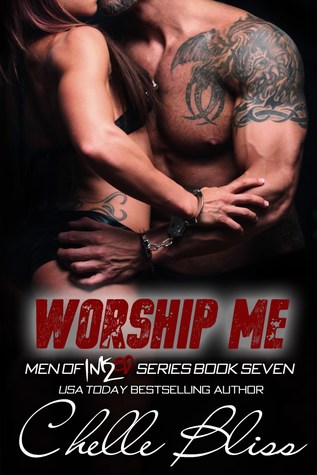 James Caldo needs to control everything in his life, even his wife, Izzy Gallo. But she's headstrong and has a need to test her husband's limits as much as he pushes hers.
When a case at ALFA Private Investigation takes a dark turn, James is forced to get Izzy involved in an undercover sting, and the assignment will test her sexual boundaries as well as the very foundation of their relationship.
Can Izzy hold her tongue long enough to keep them both safe? Or will her unwillingness to fully submit draw the eye of the very man they're after?
Worship Me
by
Chelle Bliss
Chantal's rating:
5 of 5 iScream Cones
Chelle has done it once again! She brought back the Gallos and it was spectacular! I have the Gallo family since the very first book in the series, all the way to this one. She tells it in a dual POV of James and Izzy.
James has a lead on a case for ALFA and he needs to run with it. He is risking his marriage and himself for it. James returns back to his old stomping grounds in hopes of it panning out for him.
Izzy is always toying with James, especially when having to agree with him. Their relationship is about trust and also some "play". She knows what she is about to get involved in can be risky.
James and Izzy head to his parents house, which is a few hours from their home, to follow a lead. James waits until last minute to tell Izzy about it, because he knows she will do it. But he is concerned that she won't be true to the under cover part and her feisty side will come out. Izzy is willing to help to an extent. They come back and settle back into their lives. Izzy gets some pretty scary news about her Ma. And of course, James is there to lift her up.
Does James catch the man he chasing? Will Izzy be able to handle everything that is going on around her? What's in store for Ma Gallo?
This book really solidified my love for this series and the family. It was truly a great read and Chelle is an amazing author. There is more Gallos to come in 2018, I'm curious to see who it will be.
Don't forget to catch up with the Men of Inked series today - Available Everywhere!

Chelle Bliss is the USA Today bestselling author of the Men of Inked and ALFA P.I. series. She hails from the Midwest, but currently lives near the beach even though she hates sand. She's a full-time writer, time-waster extraordinaire, social media addict, coffee fiend, and ex high school history teacher. She loves spending time with her two cats, alpha boyfriend, and chatting with readers. To learn more about Chelle, please visit chellebliss.com.